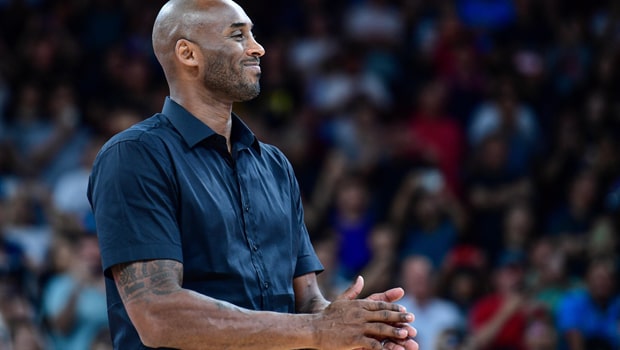 Kobe Bryant was demanding on the court, holding teammates accountable for their actions and making sure everyone shared his historic level of dedication of work ethic. But it turns out, he was demanding off the court as well. One night at a teammate's birthday party proved it.
Caron Butler, a 14-year veteran, was a Laker for one season in 2004 after coming from the Heat in the Shaquille O'Neal trade. In an interview with VladTV, former All-Star Gilbert Arenas told a story Butler once shared with him. Butler was having a birthday party and invited Kobe, who had a more than peculiar entrance.
"Caron [Butler] was telling me once about his birthday. He did a party at his house in Milwaukee and he said he invited Kobe. … He's got his house, his family, his friends, and his teammates [at the party]. Kobe comes in — he has security — and he tells everyone, 'Hey, everyone out of the house.' And then he had his security check and make sure everything was alright, and then let everybody back in. 
Caron said, 'I'm sitting outside looking like, 'Yo bro, this is my house.' he said, 'That's the way Kobe was. You just gotta deal with it.'" Arenas shared.
Hopefully Kobe brought Butler a nice gift. Regardless, he clearly moved on from the incident, as the two became good friends. Kobe even wrote the foreword for Butler's autobiography.
Many other teammates, like Pau Gasol and Metta Sandiford-Artest (formerly Metta World Peace) have glowing reviews from their time alongside Kobe.
"I learned first-hand what it meant to be the best," Gasol told FOX Sports of playing with Bryant. "The effort, the commitment, [and] the work ethic he had was unparalleled. It inspired so many players, not just on his team but beyond his team. It inspired a generation, probably multiple generations of players that we see today."
"He loves the game so much and that's why I appreciate him so much because we could see eye to eye as brothers just from how we compete," Sandiford-Artest said last year to ESPN. "The language of competition. It's really interesting how we clicked."
"It's great to be with him. I love a guy who expects so much from his teammates. He pushes his teammates," Antawn Jamison once told ESPN after a one-year stint with Kobe. "I mean, this guy eats, sleeps basketball and the only thing he wants to do is to win another championship and I've never seen anybody as focused, as dedicated as Kobe."
Kobe Bryant is one of the greatest NBA players of all-time and the greatest Laker ever. Two jersey numbers in the rafters at the STAPLES Center prove it. Kobe was able to take over games in ways that not many players could.
His drive to win at any cost helped him succeed on and off the court. An 18-time NBA All-Star, five-time NBA champion and one-time NBA MVP, he tragically passed away on January 26, 2020.
Kobe worked like he had no talent, then he played like he believed he was the best player in the world. Prepare with humility; perform with confidence. It's safe to say Kobe was a better player and teammate than party guest.
Leave a comment