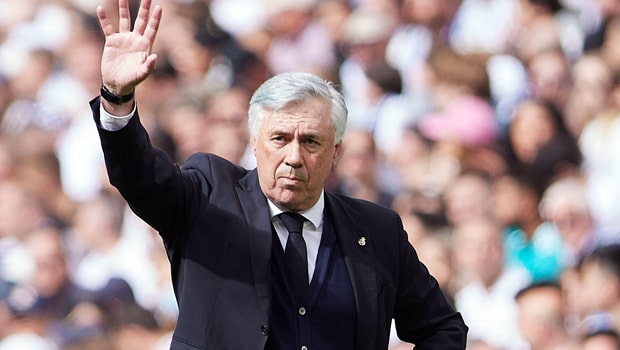 Real Madrid's Carlo Ancelotti became the first coach to win a trophy in each of Europe's top five leagues as he and Real Madrid clinched the club's 35th La Liga title on Saturday.
Madrid got two goals from Rodrygo in the first half before a goal each from Marco Asensio and Karim Benzema to put the match out of reach.
Ancelotti adds Spain to his titles, adding on to Serie A, Premier League, Ligue 1, and the Bundesliga.
"It's emotional. It's an achievement," Ancelotti said. "The season we've had in the league has been spectacular, with a lot of consistency. It's thanks to the work of the players, and their commitment. Today we have to celebrate, I want to celebrate. It fills me with pride. I like what I do, and the five leagues [I've won] mean I've done quite well. I'm proud to be here and to win trophies for Real Madrid and I want to carry on winning trophies for Real Madrid."
Madrid's 35th La Liga title is more than any other club in the competition's history, with Barcelona No. 2 at 26 wins.
"He has a lot of experience of managing squads and I think he's done very well," Real Madrid president Florentino Perez said of Ancelotti. "He identifies with Real Madrid, its values, and what it represents, that's important."
Ancelotti started his managerial career with AC Milan in 2004, where had he won the league as a player twice in the 1980s.
Benzema wins his eighth career league title.
"Now nobody is going to doubt that they have to give Benzema the Ballon d'or," Perez added. "Benzema will win the Ballon D'Or and he should have already won it before. The whole world knows it."
Benzema has scored 42 goals in the 42 official games he has played for Real Madrid in the 2021-22 season. He has scored more than twice as many goals as any other LaLiga player in Spain.
He is now the second-oldest player in Real Madrid history to score 40+ goals in a season, only behind Ferenc Puskás.
"Benzema is doing an amazing season, Vinicius has improved, Asensio has scored a lot of goals, Modrić and Kroos have scored, Casemiro, Rodrygo, we have improved," Ancelotti said.
Real Madrid get set to host the second-leg of their Champions League semi-final matchup against Manchester City on Wednesday, 4 May. They are down 4-3 on the aggregate scoreboard.
Leave a comment