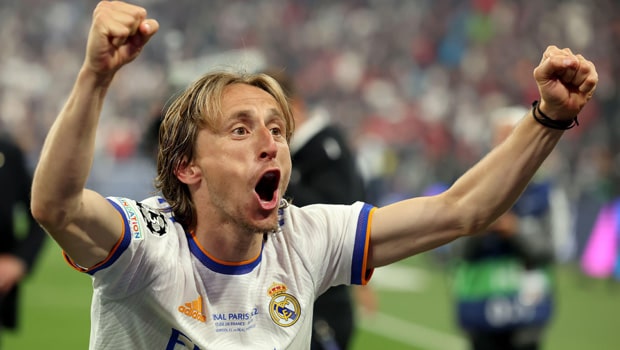 Real Madrid midfielder Luka Modric has stated that he hopes to retire at the club after signing a contract extension in the backdrop of the UEFA Champions League win on Saturday.
The Los Blancos edged Liverpool to a 1-0 victory at the Stade de France courtesy of Vinicius Jnr's second-half strike.
Luka Modric, who played 90 minutes of the final, also had 3 three goals and 12 assists in 45 games in all competitions as Real Madrid went to win the La Liga and the UEFA Champions League double.
Reports indicate that the 36-year-old will sign a contract extension for one more year as his current deal expires at the end of June.
Modric has been at the Bernabeu since 2013 and has won five UEFA Champions League titles since then.
Earlier in the year, the Croat spoke of his desire to finish his career at the Spanish capital.
"I hope I can retire at Madrid. Madrid is my home. I feel very happy at the club, in the city, very loved by the people, My family is also very happy, so I hope to continue for more years and hopefully finish my career here." Modric said.
Luka Modric helped Madrid to their fourteenth UEFA Champions League title with four assists in thirteen matches, while his La Liga tally includes 28 games, 2 goals, and 8 assists.
Modric, who moved to Real Madrid from English side Tottenham in 2012, has played 462 matches for Los Blancos, amassing 19 major titles in total.
Within that period, Modric also skippered the Croatian national team to the FIFA World Cup final in 2018, a year in which he won the Ballon d'Or too.
Despite his age, Modric has continued to show class under Carlo Ancellotti, and expects another extension at the end of 2023 if he keeps up the same performances until then.
Written by: Daniel Ademiju Idowu
Leave a comment