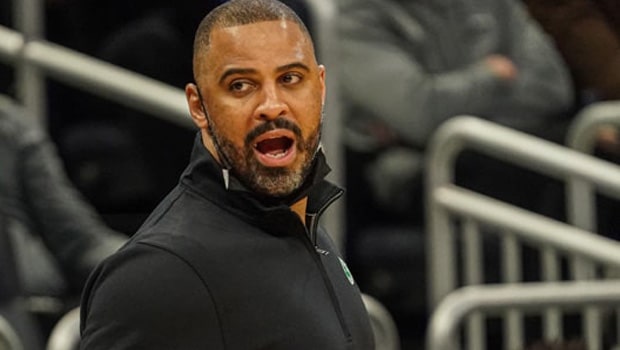 Boston Celtics head coach Ime Udoka reckons his team will need a better start against the Miami Heat in Game 7 of the Eastern Conference finals. The series is tied 3-3 after Miami Heat won their sixth game of the series by 101-103.
Miami Heat took the first quarter by 29-22 and they were able to hit the ground running. Thus, Udoka feels they cannot give their opponents an early advantage in the deciding contest.
Jimmy Butler had come up with a scintillating performance for Boston Celtics as he scored 47 points to help his team win the do-or-die contest.
"Yeah, I would say so," Udoka said on a videoconference call with reporters Saturday morning. "It's not only the series for us — it's been all season long. Even in these playoffs, it hasn't been easy … a lot of that is due to what we're doing, and we can be better, for sure.
"But for us, it's another opportunity. You put yourself in this position, going up 3-2, to have two games to win one. So as much as you love to finish it on your home court, we've been up and down this series, and due to that, it's where it is right now."
On the other hand, Udoka reckons it is imperative for them to get off to a good start. Udoka feels his team finds itself in a position, where they are playing catch-up after they don't get off to a good start, which then puts them under pressure.
"A lot has to do with our starts and having to play catch-up the whole game," Udoka said. "We understood the situation Miami was in last night and didn't play our best basketball in the first quarter defensively and offensively. Playing behind the eight-ball most of the game. Although we got the lead late or tied it quite a few times, it felt like we were always in an uphill battle, shooting ourselves in the foot.
"We'd like to get off to better starts, put some pressure on the opponent when they're in that situation, similar to what we did against Milwaukee in Game 7. That's our mindset coming in. Obviously, going into [Miami], we want to start better. We have confidence in going down there winning, too, but we have to get ourselves off to better starts, get ourselves easy baskets and not give them life early in the game."
The seventh game of the series will be played on Sunday night and the winner will take on Golden State Warriors in the NBA Finals.
Leave a comment