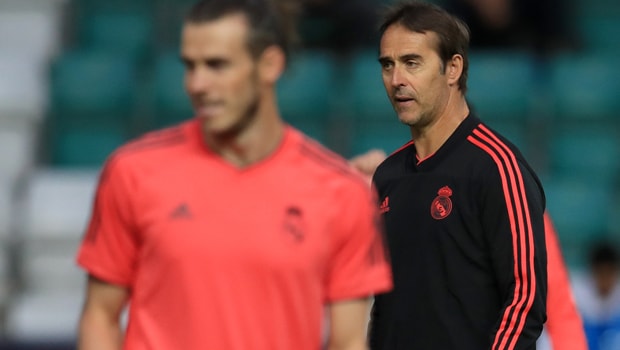 Real Madrid boss Julen Lopetegui had piled the praise on Gareth Bale after his side's 2-0 win over Getafe in La Liga on Sunday night.
The Spanish giants were back in action for the first time since their UEFA Super Cup defeat to Atletico Madrid on Wednesday.
Madrid also played their first game in the league with Cristiano Ronaldo, following his move to Serie A side Juventus this summer.
Right-back Dani Carvajal opened the scoring in the 20th minute, before Bale secured the three points at the Santiago Bernabeu with a strike in the 51st minute.
Bale had been linked with the exit door this summer but Lopetegui admits he will play a crucial role this season.
He said: "I liked the team's performance in general and Bale had a very good match.
"He offers lots of different things, like the other players. We must continue working, the team always comes before individual talent and that goes for Bale too.
"We're satisfied with the win and happy because the team did a lot right. There's still room for improvement at this stage of the season, as with all teams.
"We played with intensity, played as a team and scored two goals against a side who had the third-best defensive record last season and who came here and made things difficult."
Team-mate Nacho was also quick to support Bale and insists he does not have to prove himself now Ronaldo has departed.
He told the club's official website: "Bale does not have to follow Ronaldo's path. He [Ronaldo] marked a time here.
"Bale is a very important player for us and has won many things here and does not have to prove anything to anyone. He has the confidence of all and surely he will do it very well.
"The crowd is with Bale and he is very happy at Real Madrid."
Leave a comment