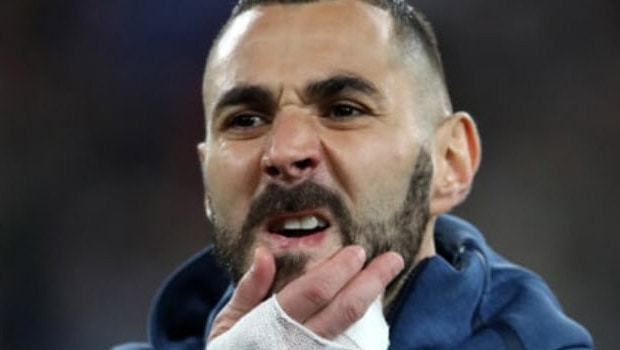 French striker Karim Benzema scored twice as Real Madrid recorded a 3-1 victory over Atletico Bilbao in the Spanish La Liga on Tuesday evening.
The win gives Real Madrid a fourth back to back victories to underline a recent turn in form for the capital club.
Recent results include a 1-0 win over Sevilla, 2-0 victory over Borussia Monchengladbach, and a 2-0 derby win over Atletico Madrid in the La Liga on Saturday.
Toni Kroos gave Real the lead late in the first half after the visitors were reduced to ten men; Ander Capa equalized for Bilbao 7 minutes after the break.
However, Karim Benzema scored two late goals, the first coming in the 74th minute from a Daniel Carvajal's assist and the second coming just before the final whistle.
The result puts Real Madrid level on point with Real Sociedad and Atletico Madrid, who are first and second, inferior goals difference puts Zidane's men in third.
Atletico Bilbao, on the other hand, is in 13th position on the league standings.
Up next for both sides include La Liga clashes against Eibar on the 20th of December for Real Madrid while Atletico Bilbao will face Huesca on the 18th of December.
On Wednesday, Barcelona will play against Real Sociedad in the La Liga while other Copa Del Rey matches will be played.
Barcelona is 9 points away from the top of the table in the 8th position with 17 points from 11 matches.
Atletico Madrid will play Cardassa, Levante and Racing Murcia, Alaves and Ricon, Villarreal against Leioa.
Valencia and Terrassa, Elche will play Bunol and Españyol will play against Llagostera.
In selected Copa Del Rey results on Tuesday, Osasuna thrashed Tomares 6-0 while Sevilla won 3-0 against Ciudad de Lecuna.
Leave a comment