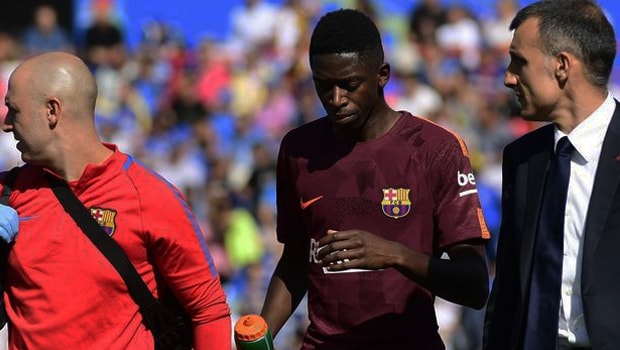 Ousmane Dembele is unlikely to return to the Barcelona first team until the New Year, according to the doctor who recently operated on him.
Following a bright start to life at the Nou Camp after his summer arrival from Borussia Dortmund, the Frenchman tore his hamstring in last month's game at Getafe.
The severity of the problem resulted in him requiring surgery and the 20-year-old flew to Finland to be operated on by Sakari Orava.
It was originally suggested he would face around three months on the sidelines, however, it was hoped Dembele's youth would allow him to make a quicker than expected recovery.
His absence meant he was unable to help France in their bid to qualify for the World Cup, while he has also been unavailable for Barca's last four games. Orava says he has been in regular contact with the Catalan club's medical team and says it is unlikely that Dembele will be able to make it back until 2018.
"I am constantly in contact with Dr. Pruna at Barcelona and he is giving me detailed reports about what the player is doing," Orava told El Mundo Deportivo. "At this point everything is on course and the recovery is going well.
A time scan? Like most youngsters he is optimistic, but my preference is to approach this with more caution and stay with the first timescale.
"The cause of injury? Maybe it was the pressure the pressure he had been exposed to after signing for the club, not saying he had previously felt pain in that area."
After winning their opening seven La Liga matches, Barcelona are currently the 1.53 favourites for the title, while they can also be found at 7.50 for the Champions League.
Leave a comment