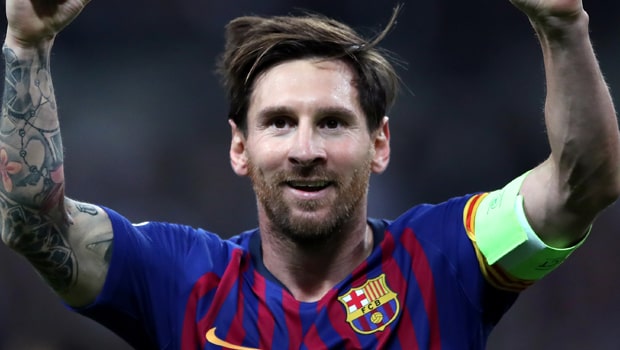 The Golden Ball, or Ballon d'Or in its original French form, has been awarded to the best player of the year since 1956. It was originally established by France Football to award the best European player in European leagues, but in 2007 it became a global prize as it is today. The award is voted by football writers around the globe as well as coaches and captains of the national teams.
Messi's historical sixth win came as a no big surprise, after many sources had witnessed the award organizers perform a photoshoot and an interview with the Barcelona and Argentina talisman already last week. Meanwhile, usually Messi's closest rival, Cristiano Ronaldo was conveniently attending another awards ceremony in Italy at the time of Ballon d'Or ceremony.
This time it was not a landslide victory nor a battle between Messi and Cristiano Ronaldo, who have shared the prize since 2008 up until last year. Last year's surprise winner, Croatian international and Real Madrid star Luka Modric was extremely close to get some company in the stall of dark horse winners. Messi gathered the most points in voting, a grand total of 686, but it was an astonishingly close call: Liverpool's and the Netherlands defenseman Virgil van Dijk came in second with 679 points. Last time the vote was this close was back in 1996, with Matthias Sammer winning by one point over Ronaldo and the last time a defender won the coveted award was in 2006, when Fabio Cannavaro of Italy and Real Madrid took the honors.
Messi's record setting win was duly deserved, though. In 55 games the Argentine scored 47 goals and provided 19 assists. His team won the domestic championship as well as Super Copa of Spain, while Messi himself was awarded the top goal-scorer in Spain, the Golden Boot for Europe's leading scorer and he was also the top scorer in the last season's Champions League with 12 goals in total.
The 32-year-old is not showing any signs of slowing down this season, despite some nagging injuries suffered on the way. In La Liga he has scored nine goals in nine games played, while assisting on five being by far the most important player for his club. In the Champions League Messi has played five games, scoring two goals and assisting on three while helping his team to the knockout stage.
It seems to be another successful season for Lionel Messi, but the challengers are closing in. Let's enjoy the privilege to follow the Messi-era while it lasts!
Leave a comment