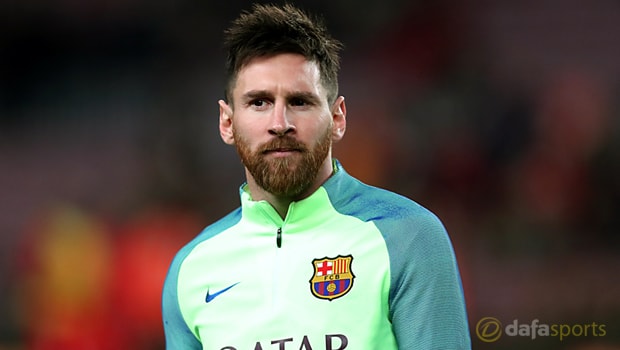 Lionel Messi has praised his "phenomenal" rival Cristiano Ronaldo and insisted that both of them are "armed" by the talents and challenges set by each other.
Ronaldo has enjoyed the upper hand this year, as Real Madrid won their first La Liga title in five seasons and became the first club to successfully defend the Champions League trophy in its modern guise.
Messi and Barcelona, meanwhile, were left holding just the Copa del Rey at the end of a frustrating campaign that ended with coach Luis Enrique walking away from the club.
The relationship between Messi and Ronaldo, arguably two of the greatest footballers of all time, has drawn much speculation but the Argentine has no issues in admitting that his Real Madrid counterpart is a wonderful player – and he says they are both able to feed on the personal rivalry.
The duo have shared the past nine Ballon d'Ors between them and Ronaldo will be expected to make that ten later in the year.
"I have always said it – and [Ronaldo] from his part – that he is armed with the presence of us both," Messi told Tencent.
"We try to achieve the best every year for our team, and what is said outside of that I don't think is very important. He is a phenomenal player with a lot of quality.
All the world knows, and that is why he is one of the best of the world."
Messi is rumoured to have agreed a new deal that will tie him to the Nou Camp until 2021 and, ahead of his 30th birthday later in the month, he says his desire remains intact to finish his career with the Catalans.
"[Staying with Barca] is what I have always wanted, what I have always dreamt of. I said that I would like to end my career in Barcelona, and we will see if it ends that way," he added.
Messi is travelling to Australia where Argentina will face Brazil in a friendly in Melbourne on Friday.
Argentina are 2.50 to win that game, with Brazil 2.80 and the draw 3.20 at the Melbourne Cricket Ground.
Leave a comment