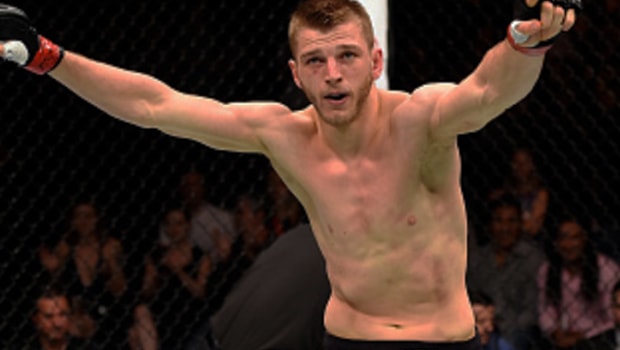 Dan Hooker has described his knockout victory over Ross Pearson at UFC Fight Night 110 as a win to 'remember'.
The Kiwi sent the home crowd at Auckland's Spark Arena into raptures as he connected a decisive blow with his knee to secure a victory over experienced Brit Pearson.
The 27-year-old admitted after the fight that it is a night he will always remember, likening the experience to the one he enjoyed during his UFC debut at the same venue against Ian Entwistle in 2014.
"It's a night I'll remember for the rest of my life. It's up there with the first show," Hooker recounted.
"Looking up after that finish and just seeing that crowd and hearing them…it's one of the loudest crowds I've come across.
Those New Zealand fans, they've got some lungs on 'em eh?!" The victory was made even more impressive, as it was Hooker's first bout since returning to the lightweight division and he confirmed that he feels more at home fighting at 65kg.
"I'm never going back to featherweight, mate," he laughed. "I just felt strong, I felt fit. I felt like a completely different fighter. "I felt like myself, pretty much.
That's how I train, that's how I compete in the gym. I feel like I barely just scratched the surface, I didn't get tired at any stretch of that fight."
Hooker's next fight is expected to take place in Australia in November, but he confirmed that he is going to rest and take stock before he sets his sights on his next opponent.
"I'm going to get away to my parent's farm and take a couple of days, just reflect on it and relax," he added.
Leave a comment