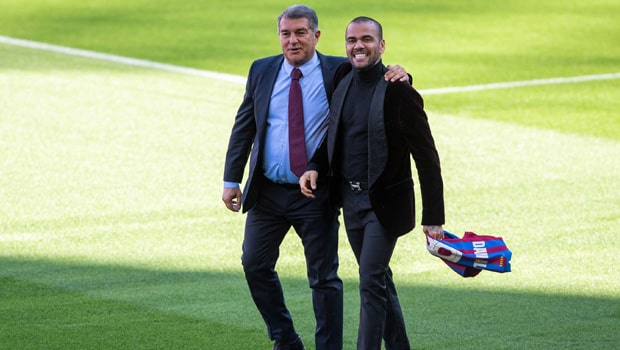 Barcelona president Joan Laporta and new signing Dani Alves have not ruled out a sensational return to the Camp Nou for both Lionel Messi and veteran Andres Iniesta.The Argentine superstar had left Barcelona and joined PSG due to the Catalan side's financial problems earlier this summer.
However, with the return of Xavi as head coach and former player Dani Alves to the club, things seem to be looking up for the Spanish giants.
Speaking to reporters on Wednesday, Joan Laporta opened the door for both Lionel Messi and club legend Andres Iniesta to return in the future. "I do not rule it out. It has happened with Dani, who has already said that age is just a number and has also made a significant financial effort to return", says Laporta.
Laporta further adds that the players like Messi and Iniesta are big names and cannot be ruled out so easily. "You are talking about two spectacular players, Leo [Messi] and Andres [Iniesta]. I cannot predict the future, they are still playing", further quotes Laporta.
The former member of Parliament of Catalonia further adds that players like Messi and Iniesta are always missed. "The great players are always missed when they leave. It would be incredible to be able to see him here again. Unfortunately, he is not here.I would encourage all former players to come back as there is nowhere to be found that is better than here", adds Laporta.
Lionel Messi and Dani Alves had a brilliant relationship down the right hand side for Barcelona. The duo combined spectacularly at times and their partnership played a key role in Barcelona's immense success over the last 10-12 years.
Leave a comment