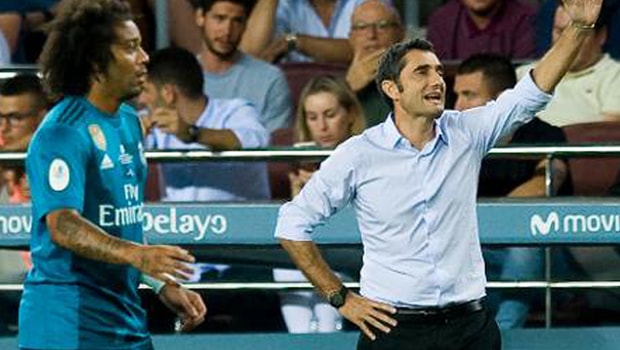 Barcelona boss Ernesto Valverde feels his side's 3-1 home defeat to Real Madrid in the first-leg of the Supercopa de Espana was not a true reflection on how the game panned out.
Barca face an uphill battle in the return match after a Gerard Pique own goal and strikes from Cristiano Ronaldo, who was later sent off, and Marco Asensio handed Real the initiative at Camp Nou.
Lionel Messi did score a penalty for the Blaugrana during the second half and Valverde felt the final result was harsh on his side because there had not been much between the two teams.
"I don't have the feeling that we were as far away from [Real Madrid] as the scoreboard indicates," the 53-year-old told reporters.
"They scored three goals, but this was a game in which we played well and had chances."
Valverde insists the tie is not over and he is hoping his side can produce an impressive comeback in the second leg at the Bernabeu on Wednesday.
"We have a very unfavourable aggregate score and the opponent is the favourite," Valverde added.
"Now we have to play a second leg and things are never over after one defeat, or after one victory."
Barca will also be hoping the defeat does not have a negative impact on their preparations for the new La Liga season, as they are currently priced at 1.95 to be crowned Spanish champions come the end of the campaign.
Leave a comment