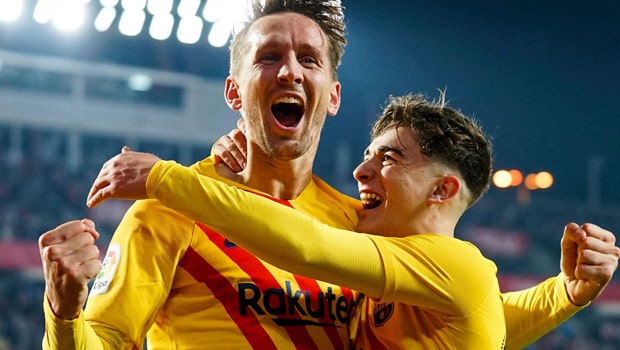 Cadiz CF is not going to wait any longer for Luuk de Jong. It has been two weeks since they reached an agreement with Barcelona and Sevilla for his loan, and things have not progressed because the striker is thinking hard about which way to go.
Therefore, the club will look for an alternative in the current transfer market.
Cadiz wants a top-level striker who guarantees goals. Hence they are willing to invest whatever is necessary if they can find a player that meets their expectations.
However, it seems that the club has no luck in completing agreements with players. First, it was Paco Alcacer, and now the club has to make a U-turn with Luuk de Jong.
But the club is not giving up hope to sign a high-caliber striker.
In fact, sources close to the club mention that the sporting directors have contacted Sporting Gijon to inquire about Uros Djurdjevic.
Djurdjevic stood out last season, scoring 22 goals. He has already scored six goals in the current season.
In addition, the 27-year-old player has extensive experience in European soccer as he played for Partizan, Palermo, Vitesse, and Olympiacos.
Sporting Gijon does not want to let the player go and set a six-million price tag.
Djurdjevic feels very comfortable at Sporting and does not want to leave the club either. In an interview, he said: "I see myself at Sporting after January. I want to go up with Sporting, I have already said it several times, and I hope to fulfill that wish."
The signing of Djurdjevic looks complicated for Cadiz at the moment, but the club is willing to sign a striker to help them get out of the bottom of the table.
Leave a comment