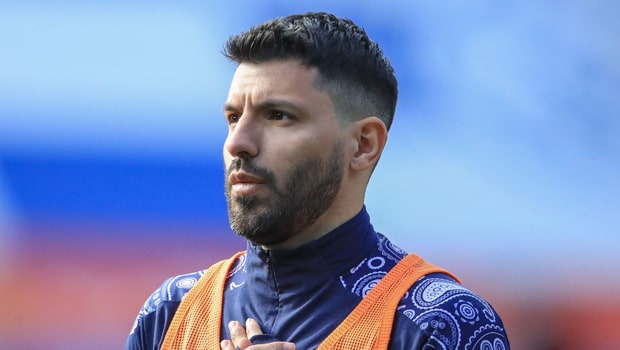 Barcelona forward Sergio Aguero will be out of action for up to three months after sustaining a calf injury. This was confirmed by the club's medics at the Cuitat Esportiva, Barcelona's training ground on Monday.
It was reported by the Spanish media that Aguero got hurt in Sunday's training session and as such, couldn't participate in the ceremony during which the squad was introduced to fans later, nor took part in the club's exhibition match against Juventus which Barcelona defeated Juventus 3-0.
The Argentine joined Barcelona from Manchester City on a free transfer In June on a two-year contract.
The news is another major blow to the Blaugrana club side because the team only lost Lionel Messi at the weekend after their failure to register him due to financial issues with the La Liga.
However, the Catalonia side is yet to register their new signings from the summer due to wage issues, the affected players aside from Aguero include former Olympic Lyon winger, Memphis Depay, and Emerson Royal.
Aguero's problems with injuries come after a final season with the Cityzens, limiting his playing chance in Pep's team and an eventful Copa America which the Albeceleste of Argentina played till the final and won.
Meanwhile, Aguero's injury is coming admist reports that he may quit the Catalonia club side following the exit of his long-term friend and teammate, Lionel Messi from the club.
And should the former Manchester City striker be out for the first three months of the season, Ronald Koeman's side will have to rely on the services of Martin Braithwaite, Antoine Griezmann, and "if possible" a fit Ousmane Dembele up front.
Messi on the other hand is reportedly finalizing a move to French giants, Paris Saint-Germain albeit reluctantly as he's postponed the trip twice since Sunday.
And as it stands, there hasn't been a movement around Messi's house in Barca because the only time the Argentine playmaker was spotted was when he went to the pool.
Leave a comment