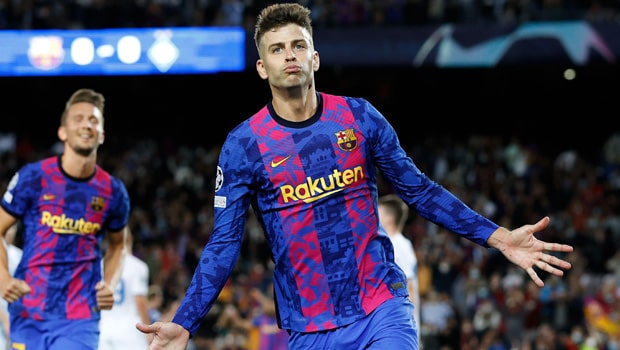 Gerard Pique scored the only goal on the night as Barcelona beat Dynamo Kiev at the Camp Nou on Wednesday.
The win, though slim, will ease the pressure on manager Ronald Koeman after weekend's 3-1 over Valencia.
Barcelona lost their first two games in the Champions League to Bayern Munich and Benfica by 3-0 on both occasions as critics slammed Barcelona's failure to hit a shot on target for 180 minutes.
However, Dynamo Kiev didn't fare much better in their first two games and it came down to who wanted it more between both sides.
Ultimately, Barcelona were comfortable as Gerard Pique converted Jordi Alba's cross for his first goal of the season overall and Barcelona's first in the champion's league this season.
The result boosts the hopes of a knockout finish for the Catalonians who now sit one point behind Benfica who lost 4-0 to Bayern Munich in Portugal.
Barcelona fans will be optimistic with the successive wins, going into the El Clasico in the La Liga this weekend.
Real Madrid are also on a resurgence after getting a 5-0 thumping of Shakthar Donetsk, their first win in four games in all competitions.
Meanwhile, Sevilla were held to a goalless draw in France by Lille, but Villarreal had plenty positives from a 4-1 win over Young Boys in Bern. Recently recovered Samuel Chukwueze was among the goals, alongside Pino, and Moreno who got a brace on the night.
In other UEFA Champions League results, Juventus also left it late as Dejan Kulusevski's late header secured the winner against Zenit.
He becomes the second Swede after Zlatan Ibrahimovic to score for Juventus in the UEFA Champions League.
RB Salzburg beat Wolfsburg 3-1, and Chelsea beat Malmo by 4-0, but they lost Romelu Lukaku to injury.
Leave a comment