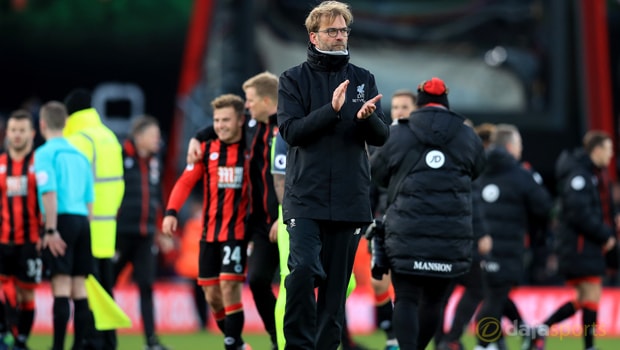 Liverpool boss Jurgen Klopp says his side must use the frustration of last week's loss to Bournemouth in order to make sure they beat West Ham at Anfield.
Klopp says his players need to be "angry" when they face the Hammers on Sunday as they look to stay in contention at the top of the Premier League table.
Liverpool allowed leads of 2-0 and 3-1 to slip against Bournemouth before shipping three late goals in the 4-3 defeat.
The Reds boss admits he is unsure whether last week's setback can truly influence how they play against Slaven Bilic's outfit, but he has warned that attitude is every bit as important as talent.
"What we will be, more than maybe we were before Bournemouth, we will be angry again – angry about ourselves, that's important," he said.
"In sports, always when you are at the highest level there are not a lot of things that can make the difference.
"Sometimes it's the quality, but not very often. Most of the time it's the attitude because the other team is really well prepared too."
Liverpool have dropped just two points from 18 available at home so far this season, courtesy of a scoreless draw against Manchester United back in October.
In three home games since, they've scored 10 times. Klopp says his players are well aware of just how important it is that they make Anfield a fortress. Dropping points at home should be another source of anger, says the Liverpool boss.
"To be angry doesn't mean they are responsible for what happened in the last few weeks but they want to have the points at Anfield, and that makes me angry already when I speak about it.
That's all you need," he added. Liverpool are 8.00 to beat West Ham 3-0 while the Reds are 6.00 to win the Premier League this season.
Leave a comment