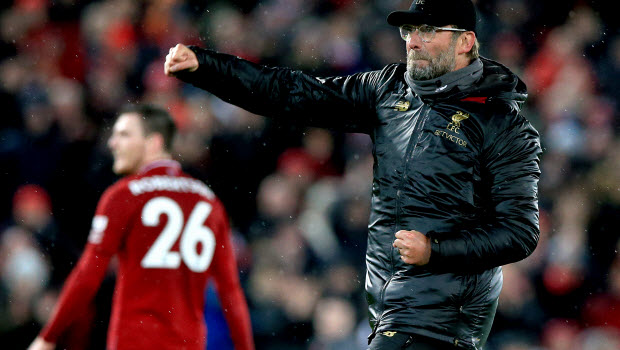 Liverpool manager Jurgen Klopp described his team's display against Manchester United as 'perfect' as they returned to the top of the Premier League table.
The Reds had been replaced by Manchester City on Saturday following their win over Everton. Klopp's men went into the game at Anfield unbeaten in the league and they continued that record thanks to a solid display in front of their own fans.
Substitute Xherdan Shaqiri fired them home as he grabbed two goals off the bench to help the Reds record a 3-1 win. They now lead their rivals by one point ahead of league games against Wolves, Newcastle United, Arsenal and the Citizens.
Liverpool remain City's main rivals for the title at odds of 3.25 and Klopp was quick to praise his squad for their performance. He told Sky Sports: "It was a brilliant start, one of the best performances we've had since I was at Liverpool, to be honest.
The first half an hour was outstanding. How we played was just perfect. "I'm completely over the moon about the performance. The way the boys played tonight was just outstanding.
We saw the line-up of United and their quality – how well organised they were and they fight from the back, you knew it could be really tough. "But the plan was to take the risks, be brave and chip the ball behind the lines.
The first goal was how, if you could have drawn, it would have been the goal. It was just brilliant.
A fantastic performance, it's so deserved. Top, top first-class team. "I don't think United wanted to play defensively but we didn't let them out. Overall it was just brilliant."
Leave a comment