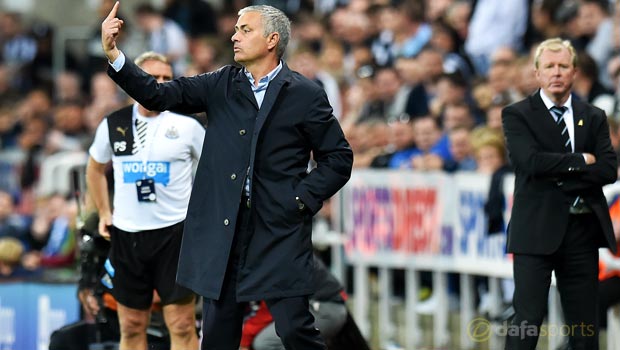 Jose Mourinho says Chelsea's first half performance against Newcastle in their 2-2 draw at St James' Park was the worst he has seen from a Blues team under his leadership.
Chelsea were a goal down at the break and Newcastle increased their advantage in the second half before late goals from Ramires and Willian allowed Mourinho's men to escape with a point.
The Portuguese boss was unimpressed with the efforts of his players, admitting he could have replaced as many as half a dozen at half time were it permitted.
Asked if that was as badly as the Blues had played under him, Mourinho said: "Yes, for sure.
"When you have so many bad individual performances, it's impossible for a team to be a team."
While he resisted making any changes in personnel until after the hour mark, Mourinho told his players at half-time he would love to have been able to replace most of them.
He said: "I told the players at half-time that I have no time to ask them why they were so bad. I want to try to understand because I don't accept it."
"I am not a magician," Mourinho added. "I tried my best for the team. At half-time I said I was sorry I only had three subs as I wanted to change six."
Newcastle had come into the game in the midst of a potential crisis, with just two points from six league games and an embarrassing home defeat to Sheffield Wednesday in the Capital One Cup in midweek.
The Chelsea manager said the home team's problems were symbolised in their willingness to raise a performance against the Blues but not repeat it every week.
"I think maybe one of the reasons why Newcastle over the years doesn't get good positions is because of this mentality, it's because they choose some matches to sweat blood and in other matches, they don't," said Mourinho.
"This is an attitude typical of a team that wins nothing."
Chelsea are now 6.00 to retain the Premier League crown this season. League leaders Manchester United are 5.50 with Manchester City at 1.83.
Leave a comment