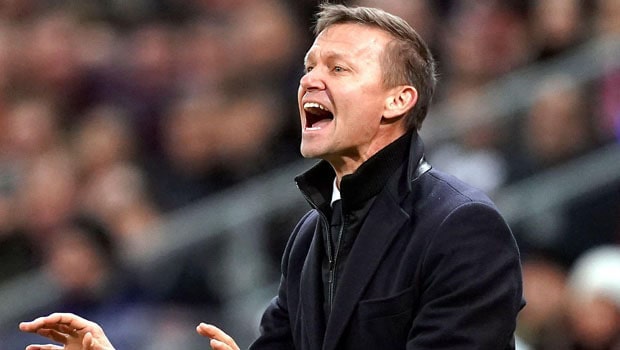 Fulham came from behind away at Elland Road to take a 3-2 win over Leeds United with goals from Aleksandar Mitrovic, Bobby Decordova-Reid and Willian.
The win puts Fulham — recently promoted to the Premier League — up to seventh place with Leeds facing relegation concerns at 18th.
Leeds are now eight-straight Premier League matches without a win, with four defeats in a row.
"I understand their frustration we're all in that boat," Marsch said. "I'm responsible for making this team better. I'm going to work tirelessly to try to help them gain their confidence."
Rodrigo put Leeds up front just 19 minutes in, but it was seemingly all downhill from that point.
Crysencio Summerville (90'+1′) provided some late hope, but it wasn't enough for the home side.
"I'm here for the long term. I love this club, I'm investing everything I have to try to make us better," Marsch added.
Despite the recent success for Fulham and manager Marco Silva, they seem to understand the value of remaining humble.
"What a comeback, starting at this stadium, losing 1-0," Silva said. "The way they did it really impressed me. They showed character and personality to play at this level. Even the way they reacted, equalizing and commanding the game. I have to be realistic, I'm not crazy. I know the quality that we face every single time. I know what it means to play at Elland Road and these fans can make an extra player for them. We knew it would be tough, but it's tough for other teams to play against us as well. The main thing for me is they can realize every single match that our players can do everything to make them proud and to win a football match."
Leeds won the possession battle 57-43, with both sides finishing with five shots on goal — though Leeds did have three more shots overall. Fulham had twice as many corner kicks as did Leeds.
"The position in the table is nice, but it's not the main thing," Silva added. "Two weeks before when we lost against Newcastle and at that crazy game at West Ham, we were not in panic. And now we're not in over the moon. We keep our feet on the ground."
Leeds will face Liverpool next Saturday, 29 October.
Fulham will look to keep building on the momentum next weekend against Everton.
Leave a comment