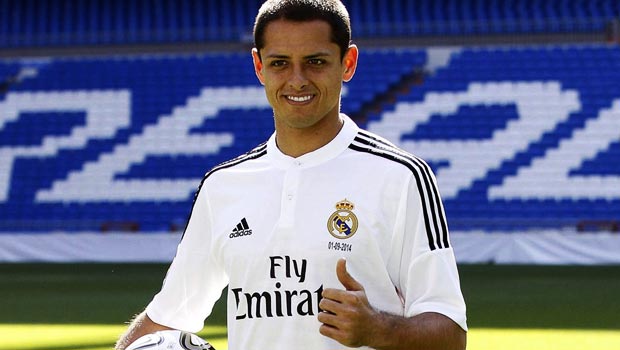 Striker Javier Hernandez says he is determined to compete for a regular starting role at Real Madrid following his loan move from Manchester United.
The Mexico international was allowed to leave Old Trafford last month after new United manager Louis van Gaal opted to bring in Radamel Falcao on loan from Monaco.
Hernandez was also in competition with Wayne Rooney and Robin van Persie for a starting role in the Premier League so his chances of action were clearly going to be limited.
A switch to Real came as somewhat of a surprise during the final days of the summer transfer window and Hernandez also faces a big task to force his way into Carlo Ancelotti's first XI, with top talents like Karim Benzema, Cristiano Ronaldo and James Rodriguez all battling for places.
Hernandez does offer a different option and the 26-year-old is hoping to earn a chance to regularly impress in Spain while he admits Benzema appears to be his direct rival for a start.
He told Neox TV: "I know I will have to face Benzema, as happened to me when I arrived at Manchester. It is normal to compete for a spot.
"I am delighted to be with Karim. I've had competition at Manchester United from (Dimitar) Berbatov, Rooney or Van Persie and learned from the best in the world."
He added: "No one trains to be a back-up. I'm a football player and there are 11 starters, so the ones on the outside are always waiting for a chance and no player will say that they train to wait on the outside.
"I'm not a conformist, I want to grow but it takes a lot of work and competition."
Hernandez is likely to be on the bench for Saturday's Madrid derby at the Bernabeu with reigning La Liga champions Atletico although he will hope to feature at some point.
Real are 1.66 favourites to win the game, Atletico are 5.07 with the draw at 3.70.
Leave a comment