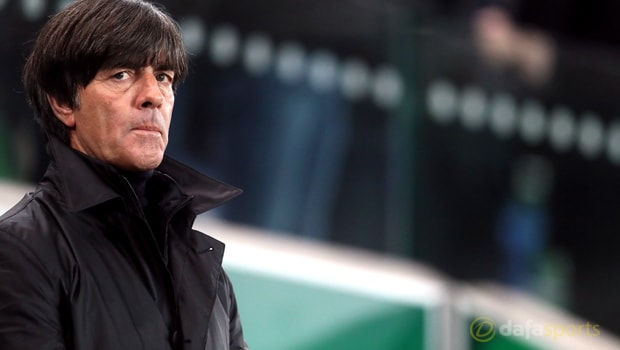 Joachim Low feels Spain are major threats to Germany's hopes of retaining the World Cup this summer.
The nations meet in a friendly in Dusseldorf on Friday evening although Low suggests both will be keen to avoid giving too much away before the summer.
Germany won all 10 of their qualifiers for this summer's tournament while Spain had nine wins and a draw en route to Russia.
Low says he is impressed by how Spain fuse the players from Real Madrid, Barcelona and Atletico Madrid together to create a sparkling cocktail on the international stage.
Spain and Germany have won the last two World Cups between them and the German boss says Spain are amongst the "top favourites" this year.
"[The friendly] will be a game in which both teams will want to show what they can do," said Low.
"However, neither will want to lay their cards on the table. If we were to play Spain at the World Cup, it would be a very different game and we know they are a top team in every respect.
"Their best 11 to 13 players come from Atletico Madrid, Barcelona and Real Madrid, uniting all these virtues.
You have Atletico's pressing game, Real's high speed and quick counter-attack, with Barca's possession.
"That unites the national team and, for me, they are one of the top favourites."
Germany are 5/1 to retain the World Cup and be champions for the fifth time while Spain are 7/1 to add to their sole triumph in South Africa in 2010.
Leave a comment