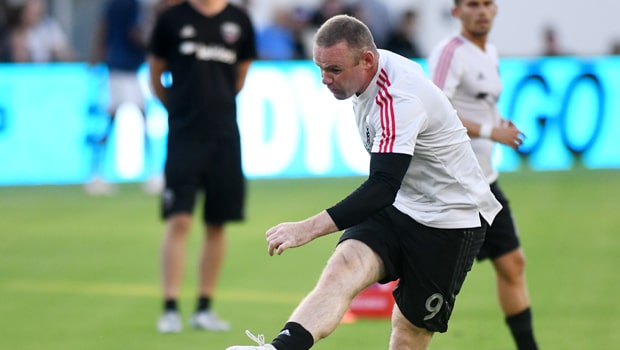 England manager Gareth Southgate feels Wayne Rooney's one-off return to his squad can serve as a reminder to younger players what it means to play for the Three Lions.
Rooney, 33, will earn his 120th and final England cap in a friendly against the USA at Wembley next week.
The former Manchester United striker is now playing for DC United in the MLS and the game has been branded 'The Wayne Rooney Foundation International', with profits going to his charity.
England's all-time record goalscorer will come on as a second-half substitute and Southgate feels this summer's World Cup semi-finalists can take something from seeing Rooney among their number.
"I think the team totally respect what he did," Southgate said.
"I think it is important they respect what the players did in the past.
"We talk to them a lot about that they have the shirt now but it is not their shirt, great players have worn it before them and great players will wear it after them.
"I think whether you join a club or (play for) your country you need to know the history of that shirt and the importance of it – then you are not playing for the name on the back but for the crest on the front."
Rooney's one-off return to the international fold has drawn criticism from certain quarters, with suggestions it devalues the cap he'll collect but Southgate doesn't share that view.
"It's a shame because you want it to be a fitting tribute to an outstanding player who I think has often been undervalued in terms of how well he played for England," he added. "Any opportunity for us to honour a player we will hugely respect."
Leave a comment