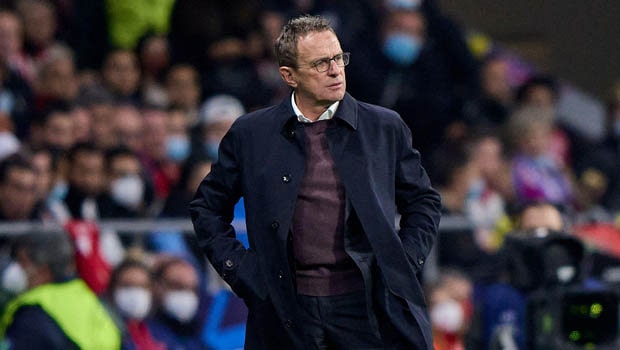 Manchester United interim head coach Ralf Rangnick has put his weight behind his players after they suffered a 4-1 drubbing against Manchester City on Sunday at the City of Manchester Stadium. It was one-way traffic in the match as the Red Devils failed to even put up a fight.
The home team completely dominated the contest as they had a possession of 70%. In fact, United could only manage possession of 21% in the second half. Gary Neville, the team's former defender and now a football pundit, labeled the team's performance as a 'disgrace' in the final 25 minutes while speaking to Sky Sports. Furthermore, Roy Keane also lashed out at the team for the mundane performance.
City took a total of 24 shots, out of which 10 were on target whereas United could only manage two attempts on the goal. The hosts were able to take a 3-1 lead after Kevin de Bruyne scored a brace and Riyad Mahrez scored in the 68th minute. It was total annihilation for Manchester United and many of the experts felt they just gave up but Rangnick thinks otherwise.
"I didn't have the impression that they didn't try," Rangnick said. "It's difficult against Manchester City because they are the best team in possession on the planet. I can't blame anyone for not trying but it was difficult after the third goal."
On the other hand, Cristiano Ronaldo missed the match due to injury. Rangnick dismissed the rumor that Ronaldo missed the crucial game after he was told he would not be part of the final XI.
"I have to believe my medical department," he added. "Our doctor came to see me Friday morning before training and said Cristiano could not train because of some problems with his hip flexor and the same was true on Saturday and that is why he could not be part of the squad."
It was a disappointing game for Red Devils as they were completely dominated by Manchester City. Manchester United will next face Tottenham Hotspur on Saturday at Old Trafford.
Leave a comment