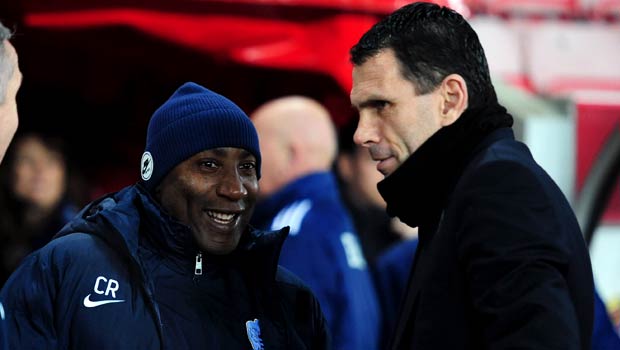 Sunderland boss Gus Poyet says he cannot understand why his players keep hindering their own chances of climbing to safety following Tuesday's 2-0 home defeat to Queens Park Rangers.
Following a run of four games without defeat in all competitions, the Black Cats appeared to have turned a corner, only to lose at home to fellow strugglers Rangers, who had not earned a single point away from Loftus Road going into the game.
The result is the latest episode in Poyet's colourful spell on Wearside, which has seen his team regularly shoot themselves in the foot by producing poor performances against lesser outfits.
Sunderland now sit just two points above the relegation zone and their outspoken Uruguayan boss has slammed his players, admitting he cannot explain why they constantly struggle to build on any sort momentum.
"I've been at Sunderland for a while. I expect everything," Poyet said. "It's typical of us. Whenever we are in a good situation, we make a step back.
"It's something we need to correct because it has happened too many times – it happened last year, and it has happened again this year. Every time we do something alright, the next step is worse.
"If I knew [what was going wrong], I would change it. The problem is that nobody knows."
After their poor showing on Tuesday, the Black Cats now have a week off from Premier League action in the form of a fifth-round tie in the FA Cup, a competition they are currently on offer at 25.00 to win.
However, their progress into the quarter-finals is by no means guaranteed as they are due to take on giant killers Bradford, who themselves are available at 201.00 to lift the trophy.
Leave a comment