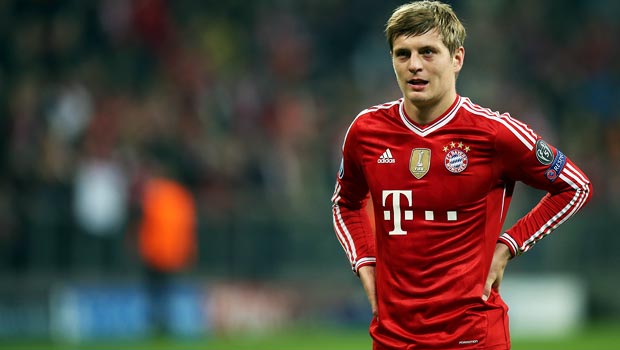 The long-running transfer saga of Bayern Munich midfielder Toni Kroos appears almost at an end after Franz Beckenbauer inadvertently let slip of the imminent sale to Real Madrid.
Kroos has just one year left on his current deal at the Allianz Arena and has so far rejected Bayern's offers of a new deal.
There has been lots of speculation regarding the future of the 24-year-old with the possibility of remaining with the Bavarians not ruled out, while Real and Manchester United were options open to the highly regarded playmaker.
Kroos himself admitted that he had made up his mind about his future but was not going to reveal his plans until after the World Cup, but Beckenbauer has seemingly let the cat out of the bag, with Spanish giants Real winning the race.
He was quoted as saying by Tutto Mercato: "As honorary president of Bayern Munich, I am sorry to say farewell.
"We are losing a world-class player. Unfortunately professional ambitions and a chance to go to a club like Real Madrid are priceless."
Although details of the deal have not been disclosed by the Bayern legend, Bild has reported that Kroos will be upping his current wages when he signs a five-year contract at the Bernabeu worth £4.7million per season.
Kroos will be hoping to complete his move to Real as a world champion although Beckenbauer has warned his compatriots that Argentina will be tougher to beat than hosts Brazil in the World Cup final.
"Argentina has a strong defence," Beckenbauer said. "And they have the attacking threat of Higuain and Messi, the most gifted player of the century, capable of deciding a game. They will not have such a disastrous defence as the Brazilians."
Leave a comment