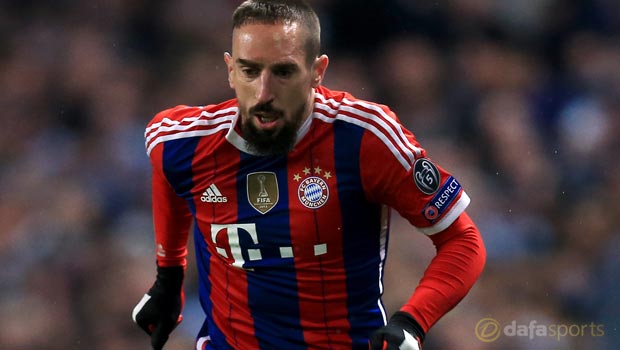 Winger Franck Ribery insists that former Bayern Munich doctor Hans Muller-Wohlfahrt is not to blame for his ongoing injury issues.
Ribery missed out on representing France at last summer's showpiece World Cup in Brazil after struggling with a persistent back problem, and has been out of domestic action since March 11.
The Frenchman was hindered by an ankle problem while with Bayern this term and missed the business end, including the Champions League meeting with Barcelona.
The former Marseille and Galatasaray man was hoping to return to full training on July 1 but suffered a set-back in his recovery last week.
After going for scans, the 32-year-old has been told to wear a protective boot to avoid aggravating the knock any further.
The Bavarian outfit parted company with Muller-Wohlfahrt in acrimonious circumstances in April amid growing speculation he was responsible for the slow recovery of a number of the club's star players.
However, Ribery insists he still trusts the specialist and has continued to see him, despite being sent to Professor Markus Walther by Bayern representatives.
Ribery said: "I have full confidence in Muller-Wohlfahrt.
"I have never experienced a better doctor in my career.
"He is really trying everything to get me back on the pitch but sometimes there are stages like this in which all medical efforts does not help.
"So, I'm not making accusations against anyone."
Bayern still went on to lift the Bundesliga title last season, finishing 10 points clear of nearest challengers Wolfsburg, while Ribery netted on five occasions.
Leave a comment