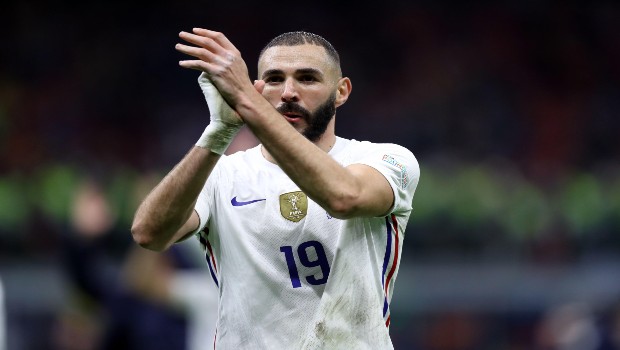 France took down Spain, 2-1, Sunday at the San Siro Stadium to win the UEFA Nations League 2021. Karim Benzema scored in the 66th minute, to quickly even things at 1 apiece following Mikel Oyarzabal's goal in the 64th minute, before Kylian Mbappè's 80th minute goal secured the victory.
The winner, however, did seem to have some controversy around it.
"It's a shame," Spain's Sergio Busquets said. "I think we did enough not to lose, but in two similar moves we conceded, although the goals were different. The second one, for us on the pitch, looked like offside. But we have no choice but to congratulate the champions and keep going. We have one more small step left to win trophies and that's our objective."
"It is a legal goal, it is a correct goal," referee's correspondent Andújar Oliver said. "Eric Garcia intends to touch the ball, touches it and plays Mbappè onside. This is the rule. Three years ago they put this rule in place and the federations had to complain when they took it out."
France came from behind against Spain, with Raphael Varane now having won the Champions League, La Liga, World Cup and Nations League in the past three years.
"The referee told us that Eric [Garcia] wanted to play the ball and that kills the offside," Busquets added in frustration. "But really he wanted to play the ball because it would've reached Mbappe, who was in an offside position. It doesn't make sense."
The finals did seem to have a feeling of deja vu, especially for France supporters. In the semis vs Belgium, France was down 2-0 before Benzema and Mbappè scored to tie the match. In the final, France was down 1-0 before the same two stars found the back of the net to take the lead.
Very even match overall with the battle of possession finishing 50-50, as both sides had 12 total shot attempts.
"We want this trophy," France national team head coach Didier Deschamps said prior to the match. "In the past, there were two international titles, the EURO and the World Cup. There are now three with the Nations League, and we want to win it."
He now has the 2018 World Cup title along with the Nations League 2021 trophy. France as a whole have five major international trophies: 1984 EUROs, 1998 World Cup, 2000 EUROs, 2018 World Cup, and 2021 Nations League.
Deschamps has been involved four of the five wins, either as a captain/player or a manager.
The victory secured title No. 27 for Benzema, making him the most decorated French player in the sport.
France became the first side to win the Nations League, EURO, and the World Cup.
Leave a comment