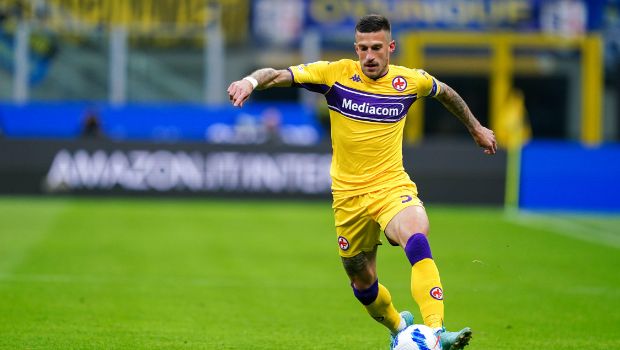 UEFA Conference League runners-up Fiorentina say players feared for safety during the final against West Ham.
The English club eventually won their first trophy in over four decades.
In a statement released on Thursday, Fiorentina condemned the West Ham United fans who left Cristiano Biraghi bleeding from a head wound, saying it 'affected the footballer and his teammates' performance with threats to their safety.
The incident left the Conference League Final suspended for several minutes at the Eden Arena in Prague. West Ham supporters continually threw objects onto the pitch, including at least a dozen hard plastic beer glasses with handles.
Biraghi was struck by several of these while taking a corner kick. He was also hit by what appeared to be an electronic cigarette that left him with a gaping head wound.
According to the statement, Biraghi was hit on the head by an object thrown from the stand housing West Ham fans in the 33rd minute of the game. Fiorentina described the behavior as unacceptable, adding that the footballer and his teammates got distracted as their attention was drawn away from footballing matters by the threats to their safety.
The Viola captain suffered a deep wound to his head, requiring eight stitches. After getting treatment, he continued to play.
This was lauded by the Series A side, which said the skipper displayed the values of fairness, integrity, and sportsmanship, which should be the benchmark for all football.
While stating that they seek to champion the mentioned attributes with all their power, Fiorentina expressed certainty that the governing body, UEFA, will thoroughly evaluate the incident and duly punish those responsible for the act. They added that delivering an appropriate response and setting an example will make such situations never reoccur.
Also reacting to the incident, Fiorentina President Rocco Commisso described those behind the act as "animals."
Leave a comment