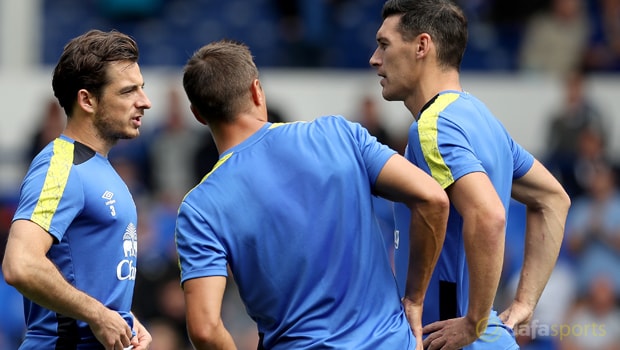 Everton trio Gareth Barry, Leighton Baines and Mason Holgate have put pen-to-paper on contract extensions ahead of Monday's derby clash with Liverpool.
Barry is one of the Premier League's most experienced players, having made 609 appearances and will now be with the club until June 2018.
The midfielder joined the Toffees initially on-loan from Manchester City in 2013 before joining on a permanent basis for the 2014-15 campaign, making 111 appearances for the Goodison Park outfit.
Meanwhile, Baines is now in his 10th season with Everton following his move from Wigan and he remains a key part of the setup.
Ronald Koeman has hailed the deals for "leaders" Barry and Baines, while also talking up "big talent" Holgate following the club's announcement on Friday.
Koeman said: "With Leighton, his attitude is always perfect. He likes to work hard, he likes to learn, he is a technical player with a good view of the game and I'm really happy to have him in the team this season and also for the longer term.
"Offensively, he's a strong player who can cross the ball well and he has that cleverness in the game and in the moment, a quality that's not in every player.
"He's one of the experienced players in our team and what you like to have in your team is a balance in ages in the group.
Players like Leighton, Phil Jagielka and Gareth Barry are leaders in our dressing room and on the pitch. For younger players, they are a little bit like teachers.
They have that experience and young players need to listen to them for they will learn."
Holgate made his Premier League debut on the opening day against Tottenham and has signed an extension running to June 2021.
The 20-year-old was signed from Barnsley in the summer of 2015 for a reported £2million and is one Koeman feels has a very bright future.
He added: "Mason is one of the big talents at the club. Of course, he started playing this season and did a great job.
He can play out of different positions in the team defensively. He was really comfortable when he got his chance in the team. He showed strengths with the football and strengths in defending.
He's the future for the club and other young players like him." Everton can be backed at 4.00 to beat Liverpool when they meet at Goodison Park on Monday with the Reds priced at 1.91 to win, while the draw is available at 3.40.
Leave a comment