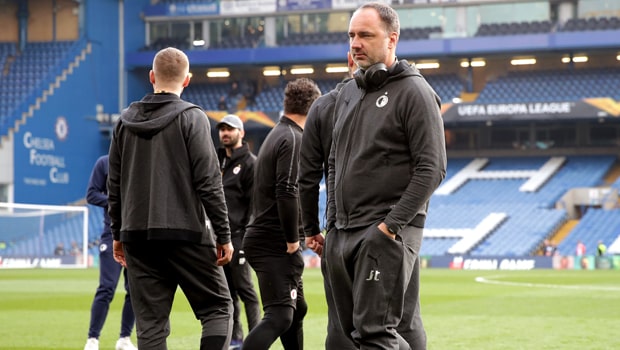 Slavia Prague boss Jindrich Trpisovsky says his team are ready to "go to war" with Chelsea for a place in the Europa League semi-finals.
The Czechs will run out at Stamford Bridge on Thursday trailing 1-0 from the first leg last week.
Chelsea are unbeaten in their last 14 games in the Europa League, while they've progressed from nine of the 10 quarter-finals ties they have played since 2004.
Despite admitting that the Blues are "on a different planet", Trpisovsky expects his team to fight their own corner.
"I am very impressed by Chelsea. We were really stunned and the whole environment here, and this is a great experience. The quality is just unreal, it's like being on a different planet," he said.
"Obviously, we don't have that in the Czech Republic. I am very grateful that we can be here and that we're playing here. We're going to war, so we've got to be ready."
Eden Hazard, with 19 goals and 12 assists this season, was left on the bench for the first leg by Maurizio Sarri.
Trpisovsky wants to see the Belgian starting the second leg as it would mean more should his team overcome Chelsea with their star player on show.
"I think currently he's the best player in the world," said Trpisovsky.
"And I'd love for him to play because if he plays that means Chelsea take us seriously.
"And if we win we would beat the best Chelsea and we would be respected. So we hope the best players will be here."
Chelsea are 1.30 to win the second leg, with Slavia Prague priced at 10.00 and the draw is trading at 5.25.
Leave a comment