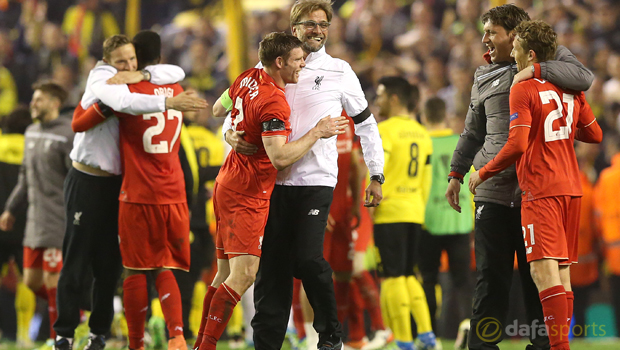 Liverpool manager Jurgen Klopp believes there has been a growing self-confidence within his squad in recent weeks.
The German insists that the Anfield club have been given a "rare chance" to win the Europa League and he has vowed that Liverpool must attack his former club Borussia Dortmund
in their quarter-final second leg tussle on Thursday evening.
Klopp and his players emerged from the Westfalenstadion with a credible 1-1 scoreline in last week's first leg, but the Reds boss expects to see much more from his old team at Anfield, while he has also warned that Liverpool have more to give.
Klopp says Liverpool cannot go into the game seeking to contain their visitors.
"I don't think we went to the limit of our performance last week and I don't think Dortmund did either, but they are having a great season," Klopp said.
"Against Dortmund you can't just defend, there is a balance between attack and defence."
Liverpool have already eliminated arch-rivals Manchester United from the Europa League and, while a semi-final berth would move them a step closer to silverware, as well as the all-important Champions League place that would accompany victory in the competition, Klopp says there is no pressure on Liverpool.
"I don't think we are under particular pressure," he said. "What we are presented with is a great chance to get to the semi-final and it is rare to have a chance to win a trophy."
Liverpool are 2.80 to win the second leg against Dortmund, who are 2.40 with the draw 3.50.
The Reds boss says confidence is brewing both in his own mind and in those of his players.
"We are better prepared than a few months ago. We are growing as a group, believing more in things and there is no doubt about the things we do," he added.
"It is a good sign for all of us that we trust them (the players) and they trust themselves."
Leave a comment