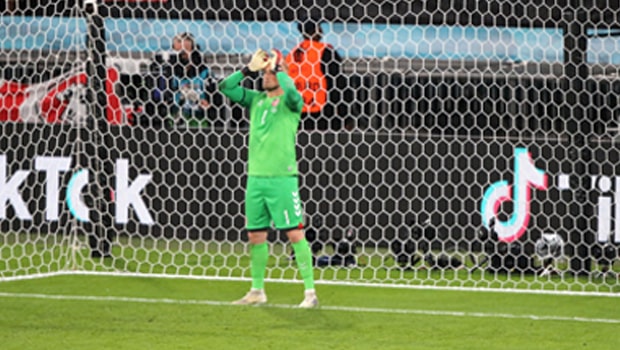 The highest governing body of European football UEFA opened disciplinary issues against hosts England after a laser pen was shone at Danish goalkeeper Kasper Schmeichel during the Euro 2020 semi-final between the two sides at the Wembley Stadium.
What made matters even worse was the fact that the laser pen was aimed at Schmeichel in a decisive moment during extra-time when he was in goal and facing Harry Kane from the penalty spot. Schmeichel ended up saving Kane's spot-kick but the England captain converted the rebound to take his side to the final of a major international tournament for the first time since 1966.
According to Guardian, prominent ITV presenter Mark Pougatch confirmed the laser-light incident and called the fan who did that 'stupid.'
"We can just hope that it didn't put Kasper Schmeichel off, because it's stupid and he doesn't deserve that," he said.
"That sort of thing, nobody wants to see."
UEFA is also investigating another incident during the match. England fans lit up fireworks and caused disturbances during the national anthem and UEFA has opened proceedings on the same.
England Prime Minister Boris Johnson's official spokesperson also requested the fans to respect other teams and not boo during their national anthems.
"We don't want fans to be booing teams. We want fans to be showing support and being respectful," he said.
Despite the sour taste of their semi-final defeat to England in extra time, Denmark have been a major inspiring force throughout the tournament. Ever since their first match in the campaign against Finland when they had to witness their talisman Christian Eriksen suffering a cardiac arrest, nobody expected Denmark to progress as far as they did.
Kasper Hjulmand's team scripted a fairytale run in the space of almost three weeks and qualified for their first European Championship semi-final in 29 years. Denmark's remarkable comeback from the depths of tragedy to the forefront of glory echoed through the hearts of football fans all over the world.
Even in the game against England, Denmark struck early through a sensational Mikkel Damsgaard free-kick. This was the first direct free-kick scored at Euro 2020. However, England soon pulled one back after Simon Kjaer ended up putting the ball into his own net while trying to block Raheem Sterling.
Denmark survived waves after waves of England attacks in the second half and Schmeichel proved to be absolutely vital. With the match set to be going to extra time, Denmark suffered another blow when the referee harshly judged that Sterling had been fouled in the box.
Even though Kasper Schmeichel, who was phenomenal all night, saved the Harry Kane penalty, there was little he could do about the following rebound. Following the final whistle, thousands of Danish fans were seen crying, hugging each other with a smile on their faces. They can be extremely proud of what the team has achieved and the road is only smoother from here on for Denmark.
Leave a comment