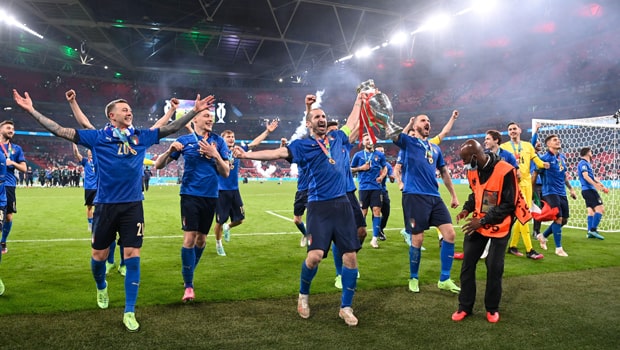 Italy won the UEFA Euros for the 2nd time in history after defeating England on penalties at the Wembley Stadium.
The Three Lions were hoping for their first international trophy in fifty-five years since winning the FIFA World Cup.
England had taken the lead when Luke Shaw scored as early as the second minute from a Kieran Trippier's cross, slamming the ball on the half volley.
However, the pressure from Italy paid off in the second half as defender Leonardo Bonucci squeezed in a goalmouth scramble to draw the game level in the 67th minute.
Federico Chiesa was a thorn in the flesh of the English defense but goalkeeper Jordan Pickford was impressive in between the goal for the English men.
However, the Juventus forward was substituted eventually as the game went into the extra time although not before Chiellini was yellow-carded late in the game for pulling Bukayo Saka who was almost through in goal in the final minute of the game.
The extra-time saw England took a better balance in the game but it was the luck of the penalty, only for the second time in the history of the competition, that would decide the winners of the Euros.
Italy took first and Domenico Berardi scored but Andre Belloti missed in-between Harry Kane and Harry Maguire's takes.
However, Italy took the advantage when Bonucci and Bernardeschi scored but Jadon Sancho, Marcus Rashford, and Bukayo Saka all missed to hand Italy the title.
Spurs striker Harry Kane, while disappointed with the penalties, praised the achievements of the group.
"We should be extremely proud as a group of what we have achieved, It will hurt for the rest of our careers, but that's football. We're all winners and want to win. I couldn't have given more, the boys couldn't have given more, penalties is the worst feeling in the world when you lose." Kane said.
Leave a comment