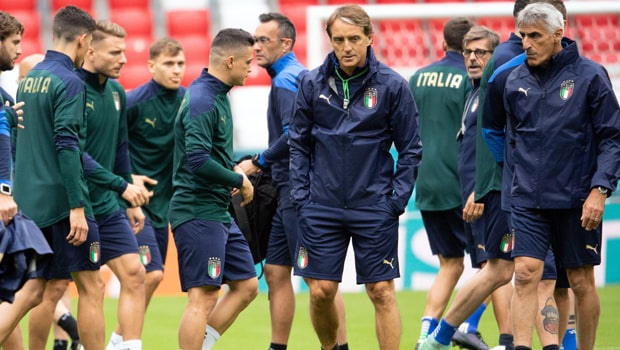 After booking the final ticket for the European Championship, Italy has returned to the Coverciano as they began training behind closed doors. They later had a traditional barbecue while watching England against Denmark.
After their victory against Spain on penalties at the Wembley Stadium, the Azzurri returned to Florence. Meanwhile, those who participated in the semi-final success over La Roja have been given a day off to rest and rehabilitate.
Ahead of the final on Sunday at the Wembley Stadium, some players will be meeting the press. Although Sunday seems far away, the Italians are already thinking about playing their last game of UEFA Euro 2020.
They have got to this stage defeating the favourites, Belgium and Spain in the last eight and last four respectively. They went ahead against the run of play to the surprise of many that had expected the impressive Spain to score first.
The Italian fans went wild after seeing their team qualify for their fourth finals. This has made the mayor of Rome, Virginia Raggi launch a Twitter proposal to project EURO 2020 Final at the Stadio Olimpico in the Italian capital. In line with the COVID-19 protocol, this will be with a reduced capacity.
She said since Rome had already hosted Azzurri's first three games, it would be a great way to cheer on the national team together. Itlay had won their group games played at the Stadio Olimpico, conceding no goal in the process.
Italy has scored 13 goals and conceded just three from the six games played so far at the tournament. They will be hoping to win their second European Championship in their fifth attempt. The last time they got into the final was the 2000 edition, where they lost to France.
The final at Wembly will be attended by about 60,000 fans as England prepares to lift the remaining COVID-19 restriction.
Leave a comment