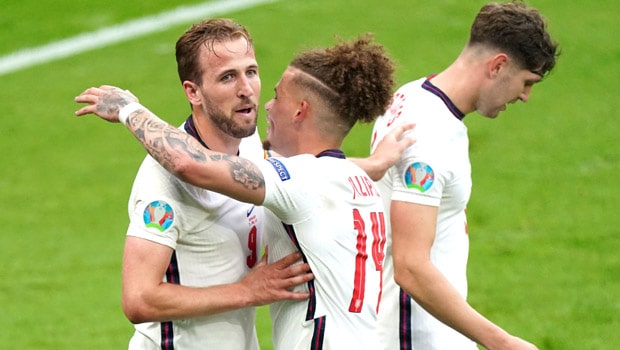 Tottenham striker Harry Kane scored his first goal of the European championships as England got a massive 2-0 victory over Germany at the Wembley Stadium on Tuesday evening.
The Spurs striker had not scored a goal in three matches played at the Euro 2020 until he scored the Three Lions' second goal of the game in a 2-0 victory over the 2014 World Cup champions.
Meanwhile, England's only other scorer in the competition, Raheem Sterling, who has two goals in the two 1-0 victories recorded in the group stage against Croatia and the Czech Republic opened the scoring for Gareth Southgate's side in the 75th minute of the game.
Thomas Muller should have equalized for Germany almost immediately after he was put clear on goal by Kai Havertz but his effort was way wide.
Four minutes later in the 86th minute, Harry Kane's moment came after heading home a Jack Grealish's cross from close range.
The win is England's first knockout victory over Germany in 55-years and they also remain unbeaten at the Wembley stadium in their last 15 matches played at the stadium. The game is also England's 300th at the venue.
The result means that all Group F's occupants have now exited the competition following Monday's shock exit of France from the competition on penalties against Switzerland.
Meanwhile, Germany's manager Joachim Low has now managed his last game in that capacity, he will now make way from Bayern Munich manager Hansi Flick, who will now hope to return the winning mentality form of the team who has won just one of its last 6 Euros matches.
In the other game played at Hampden Park in Glasgow Scotland, Ukraine eliminated Sweden. Ukraine scored a winner in the last minute of additional extra time, after they both played 1-1 in the 90 minutes.
Leave a comment