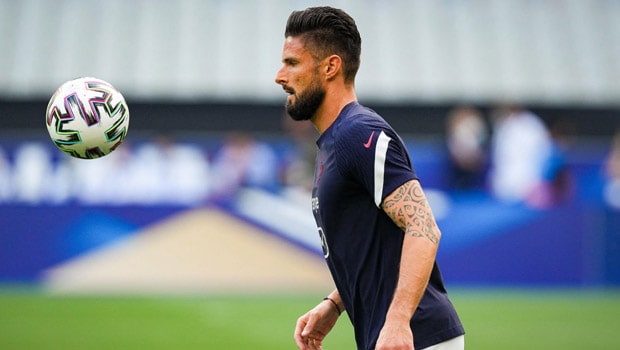 France striker Olivier Giroud has complained of not always being passed to despite scoring a brace in their 3-0 win over Bulgaria in their final tune-up game for the European Championship, which kicks off tomorrow.
The Chelsea striker told L'Équipe du Soir after the game played at the Stade de France that he was not satisfied with the number of balls he received. His double has moved him closer to Thierry Henry's record. Giroud needs five more goals to achieve the feat.
His stumbling block might Karim Benzema, who has was recalled to the national team after five years of exile.
Giroud further explained that the game was a little quiet because he sometimes runs, and the balls aren't forthcoming. While not saying he usually makes the best runs, the striker said he is seeking solutions to the team in the box.
Reacting to the comment in a later interview, the coach said it is sometimes down to movement for a striker to receive the ball. Such a comment from Giroud is not stigmatized by Kylian Mbappe or whoever he felt was not releasing the passes.
Meanwhile, Deschamps expressed satisfaction with his team after the game ahead of their next outing, the Championship proper against Germany in Bavaria on Tuesday, June 15.
Such a statement means that the World champions are ready for their Group F opener. He will be banking on Mbappé, Antoine Griezmann, and Karim Benzema, who seems to have dislodged Giroud to the bench.
It is expected to be a top clash against Germany that also walloped Latvia 7-1 in their final tune-up game.
Such a performance against Bulgaria, however, means that Germany should have plenty to worry about. They will have to figure out how to mark out Mbappe, for instance, who was dangerous throughout.
German on their own are also threatening going forward, with six of their players sharing in the seven goals scored against Latvia. The French backline will have to be wary of Timo Werner, Thomas Muller, Leroy Sane, and Kai Havertz, at least, who could bring goals out of nothing.
Leave a comment