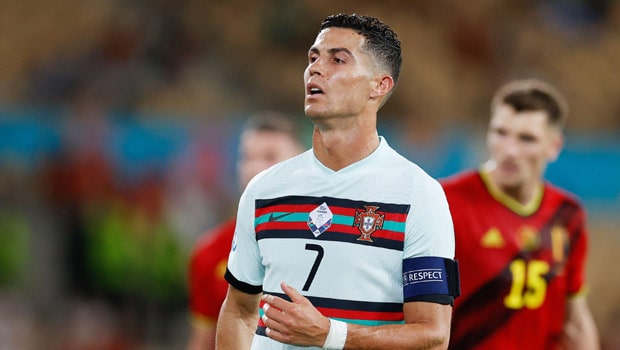 Portugal Captain Cristiano Ronaldo, whose team were the defending champions of Europe and got eliminated by 2018 World Cup third place winners Belgium after losing a nail biting game 1-0, said on Monday he was "proud" of holders Portugal's efforts.
Portugal gave it all and more particularly in the second half but could not manage to put the ball in the net. The only goal of the match was scored by Belgian Thorgan Hazard whose long range shot in the 42nd minute that beat Portugeese goalkeeper Rui Patricio and separated two sides.
The 36 year old Juventus star posted on his Instagram profile and backed the team even after the defeat, "We did not get the result we wanted and we left the competition sooner than expected," wrote five-time Ballon d'or winner.
Ronaldo admitted as his side could not level up to their 2016 campaign where they managed to beat host france 1-0 in Stade de France."But we are proud of our showing. We did everything we could to retain the title of European champions and this group proved it could still give the Portuguese people much joy," added the former Manchester United and Real Madrid striker on his instagram post.
Portugal dominated the game and had a total of 23 shots but could not find the net while Belgium managed only 6 shots in comparison. Still the brilliant strike from Thorgan Hazard managed to put Belgium in the quarter finals as they are all set to face Italy on 2nd July at the Football Arena, Munich, Germany.
The game got a bit intense during the second half as both sides got desperate to score the goal. The game saw a total of five yellow cards as Belgium got their 2 players (Alderweireld and Vermaelen) booked while three players (Palhinha, Dalot, Pepe) from Portugese camp were shown Yellow cards by referee Felix Brych of Germany.
Leave a comment