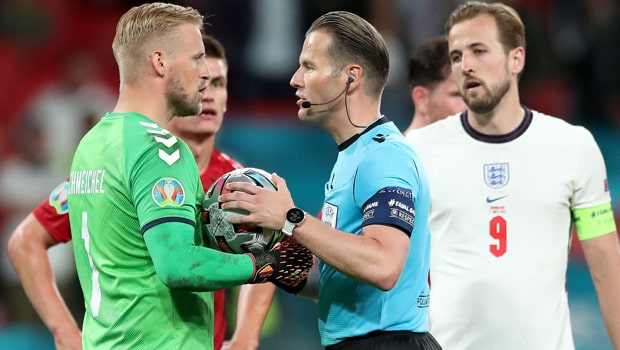 England prevailed in a 2-1 win over Denmark after conceding first to a Mikkel Damsgaard free kick. The match went to extra time and England got the lead through a Harry Kane goal just after he missed his penalty.
Raheem Sterling was the player fouled in the penalty area and both fans and experts thought that it was a very soft penalty to be awarded. Not only that, there was also a moment just before Sterling went down when there were 2 footballs on the pitch.
Moreover, just before Kasper Schmeichel saved Harry Kane's spot kick, there was a green laser pointed at the goalkeeper to try and disrupt his vision. While that didn't stop Schmeichel from making a save, Kane hit the rebound in the back of the net.
Meier is confused as to how that conclusion was reached, with the Swiss official telling Goal: "What can you say about that? Sterling was looking for contact, it was clearly too little for a penalty.
"I was even more surprised when Makkelie pointed to the spot. At that moment I thought there might have been contact, which I missed in the real speed, but then the slow motions confirmed my first impression. There was nothing for which there should have been a penalty.
"The referee probably interpreted the Danish defender's one step as a leg kick. Nevertheless, I would have expected the VAR to correct the decision. For me it is absolutely incomprehensible that he did not at least send the referee in front of the screen to look at the scene again."
On there being a second ball on the field at the time of the incident, Meier added: "Makkelie could have made life much easier for himself if he had blown the whistle. Nobody would have criticised that.
"I personally wouldn't have done that either. Because I personally don't think you have to constantly interrupt the game because of a second ball – as long as it doesn't interfere. In my opinion, it didn't interfere, all the players were only focused on the 'right' ball."
Leave a comment