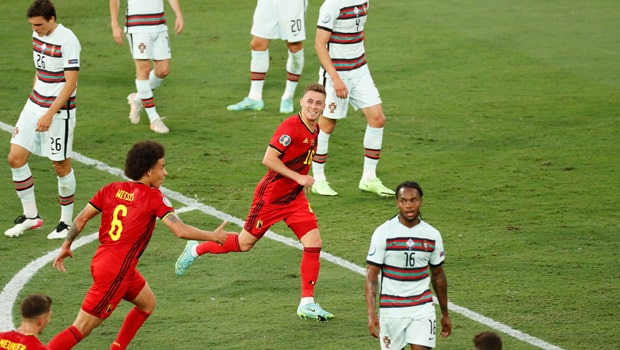 Thorgan Hazard scored a thumping effort in the first of Belgium's round of 16 clashes with Portugal at the La Cartuja in Spain at the ongoing Euro 2020 to knock out the defending champions of the competition.
The 2016 winners had finished third in a very tough group F that had France, Germany, and a stubborn Hungary and a tie against a Belgium side that had 9 points from three group games against Russia, Denmark, and Finland.
Both teams started the game with the Ronaldo-led Portugal settling quicker into the match as Ronaldo and Diogo Jota troubling the Red Devils' defense while Renato Sanchez marshaled the midfield.
However, a moment of magic from Thorgan Hazard, who struck from 25-yard to beat Rui Patricio in goal for Portugal with three minutes to halftime, gave Roberto Martinez's men the win in a tight encounter.
Portugal had their chances late in the game, most notably with Raphael Guerreiro striking the post late into the game but, none could help stretch the game into extra time as Belgium secured a date against an Italian side who needed an extra-time against Austria a day before.
Italy will now face Belgium in the quarter-final next Friday.
Meanwhile, Czech Republic secured their quarter-final spot against Denmark after shocking The Netherlands out of the competition with a 2-0 win over the Oranjes at the Budapest Arena.
After dominating the contest for long, a moment of madness from defender Matthijs de Ligt in the second half saw him red-carded after handling the ball under pressure from Patrick Schick.
Moments later the Czech Republicans took the lead through a header from Tomas Holes while Patrick Schick scored his third goal of the competition with 10 minutes left on the game.
Czech will now face Denmark who thrashed Wales 4-0 on Saturday.
Leave a comment