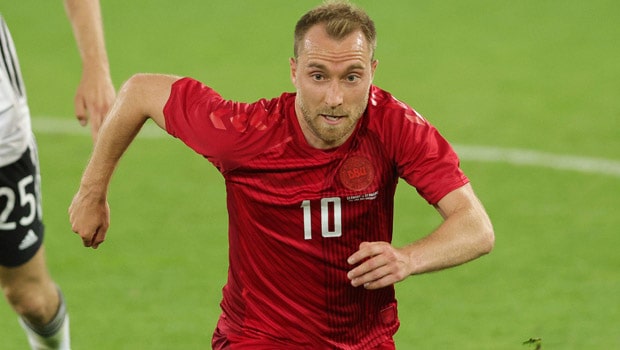 Denmark's Christian Eriksen looks to be stabilizing after he suffered a cardiac arrest and collapsed mid-match vs Finland on Saturday. Teammates confirmed Eriksen sent them a message via video link to let them know he's doing okay.
He urged his team to focus on the next match vs Belgium.
"We are in touch with him," Jakob Hoeyer of the Danish football association said on Monday. "We were in touch with him yesterday and today. [His] condition is the same as yesterday, stable, good."
UEFA had suspended the match at the time of Eriksen passing out, but did resume the match later on Saturday. It had been put on hold at the 43rd minute.
Finland won, 1-0.
"We all want to understand what happened to him and he wants to as well," Eriksen's agent, Martin Schoots, said. "The doctors are doing some detailed examinations, it will take time. Christian does not give up. Him and his family want to send everyone their thanks. We spoke this morning [Sunday]. He was joking around and in good spirits, he was doing well."
Eriksen was in his 66th competitive match in the last year since football picked back up again since the pandemic.
"He was gone, and we did cardiac resuscitation," team doctor Morten Boesen said, "It was a cardiac arrest. How close were we [to losing Eriksen]? I don't know. We got him back after one defibrillator, so that's quite fast. I'm not a cardiologist, so the details I will leave to the experts at the hospital."
Denmark boss Kasper Hjulmand said he will monitor how players are doing, how morale is mid-week heading into the match on Thursday vs Belgium.
He made a statement saying he felt it was wrong for the players to have to go back on that pitch and play.
"I know it's very difficult," Hjulmand said. "But looking back it was the wrong thing to make the decision between the two scenarios to the players in this case. Players were in a shock condition. Players who didn't really know yet if they had lost their best friend. And they have to decide between these two things. And I have a sense that we shouldn't have played."
Eriksen is 29 years old, and for now, looks to be healthy even if he never plays another match again.
"Moments like this put everything in life into perspective," UEFA president Aleksander Ceferin said. "I wish Christian a full and speedy recovery and pray his family has strength and faith."
Leave a comment