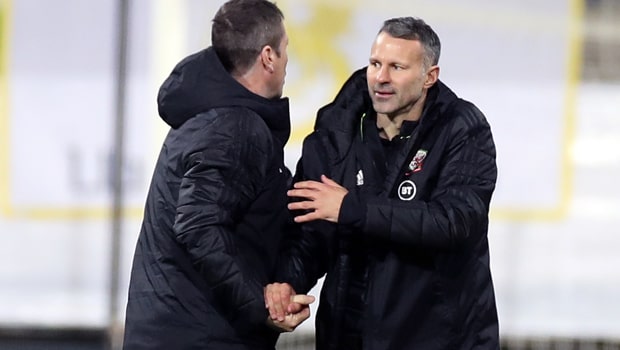 Dafabet sponsored Wales national football team had their EURO 2020 qualification hopes hanging in the balance when facing Azerbaijan on Saturday evening. The Dragons needed a win in order to stay alive and force the decision to the final game against Hungary. Ryan Giggs' men looked determined and took an impressive 0-2 victory against lackluster Azeris, while the group leading Croatia secured the top spot in a win over Slovakia.
Wales were headed to the penultimate game in the qualification tournament with only one goal – winning. No other result would've ensured their chances in automatic qualification, as Slovakia was two points ahead with two games to play and Hungary four points ahead with one fixture remaining, a head-to-head with the Welsh. After losing to Hungary 1-0 on the road, it was certain that Wales would need to first win in Azerbaijan and then battle for qualification in the final issue against Hungary.
If the first encounter between Wales and Azerbaijan was a futile effort by the Dragons, barely escaping with a narrow 2-1 victory by Gareth Bale's late brace, this time Ryan Giggs can be proud of his squad's composure. With their life on the line, the visitors took control early on and looked determined to do what was needed. It took only 10 minutes to find the net. Wigan striker Kieffer Moore finished off Harry Wilson's corner and it was 0-1 for the visitors. The insurance goal came on the 34th minute, when Daniel James smashed the ball into the woodwork and then in the path of Harry Wilson, who doubled the visitors lead into the empty net. The home team didn't have much to play for and it showed – there was barely an effort to get back into the game and the visitors were able to jog off with a more or less easy victory.
Wales boss Ryan Giggs wasn't too generous praising his players' performance, but was indeed happy with the most important, the result. He was able to manage the minutes of Gareth Bale and give some match practice for Aaron Ramsey, both returning from injuries. The winner-takes-all final fixture is already on Tuesday, so all the breathers will be embraced, especially for the talisman duo of Bale and Ramsey.
Leave a comment