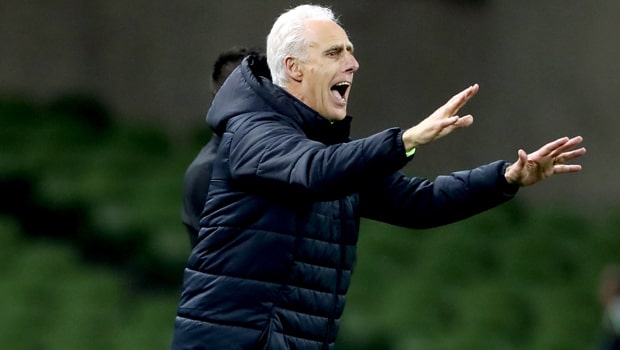 Mick McCarthy felt his side had got their approach as well as the result spot on after recording a 1-0 win over Georgia that leaves them top of Group D in their European qualifiers.
McCarthy's second term as manager of the Republic of Ireland started on Saturday with a scrambled 1-0 win over minnows Gibraltar, but there was much more to admire in the home success against a Georgian side eager to play football.
Conor Hourihane of Aston Villa curled in a left-footed free-kick in the first half to give the Irish a deserved lead after they had passed up some decent chances to score early on.
While Georgia put some pressure on late in the game, Ireland held firm and their approach, as much as the outcome, left the manager pleased.
"I said on Saturday, it's lovely if you can produce both [performance and result], that's really good, and I do think it was an excellent performance, I think we could have had two or three goals," he said.
"If we had nicked one from a free-kick and sat back and hung on, people wouldn't have enjoyed it as much, it wouldn't have been as celebrated at the end or cheered at the end."
Ireland lead the way on six points in Group D, with Switzerland second on our four points after they surrendered a 3-0 lead inside the final minutes of their home clash Denmark, who grabbed an unlikely point at St Jakob Park in their opening encounter.
"There are some bits that I insist on that we do, starting with positioning and that's from restarts from goal kicks and throw-ins," added McCarthy.
"Other than that they have a licence to go and play. The two centre-halves mark the striker and the sitter gets us playing and marks their 10 if he is playing.
"And the rest can go and play, full-backs high up the pitch and go and attack."
Leave a comment