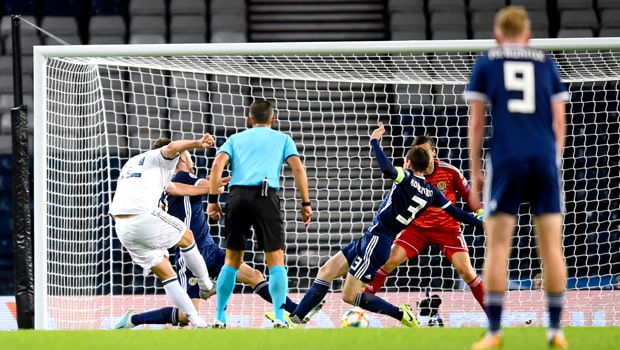 The new and controversially complex qualification system for the Euro 2020 tournament is far from done and dusted, despite 20 teams already paving their way into the competition through the traditional qualification stage. Four more spots are to be handed out for four remaining teams having performed the best in the newly created Nations League, with the likes of Scotland, Ireland and Northern Ireland still among the 16 hopefuls playing in the playoffs, which take place the end of March 2020.
Even if the qualification system and the draw to the final groups to the Euro 2020 tournament, played for the first time between 12 host nations, is hugely complex and features a lot of variables and "what ifs", the playoff-stage itself is quite clear: there's four paths to the tournament, with four teams in each path, which includes semi-finals and then the final, and the winner of each path takes all.
The semi-finals are played between the following pairs:
Path A: Iceland vs Romania, Bulgaria vs Hungary
Path B: Bosnia and Hezegovina vs Northern Ireland, Slovakia vs Republic of Ireland
Path C: Scotland vs Israel, Norway vs Serbia
Path D: Georgia vs Belarus, North Macedonia vs Kosovo
According to Dafabet Outright odds, the biggest favorite to qualify from their respective path is Serbia, who are deemed in top-20 of the UEFA Euro 2020 Winner's race with odds of 151.00. Not much further down the line, ranked 21st with Ireland, Norway and Romania stand the neighboring Bosnia and Herzegovina, with odds of 201.00 to win the whole competition.
Bosnia and Herzegovina won their group in the Nations League, beating Austria, who in turn made their way into the tournament through the qualification stage. Bosnia and Herzegovina had to surrender in the qualification phase to Italy and Finland, but remain favorites in path B to fight their way to Euro 2020.
Serbia also took their Nations League group by storm, gathering 14 points in six games and beating Romania on the way. They are facing a tough challenge though, with fellow Nations League group winners Scotland and Norway putting up a real challenge.
The Dafabet UEFA Euro 2020 Outright odds would indicate the most likely teams to qualify through the playoffs stage are Romania, Bosnia and Herzegovina, Serbia and Belarus
Leave a comment