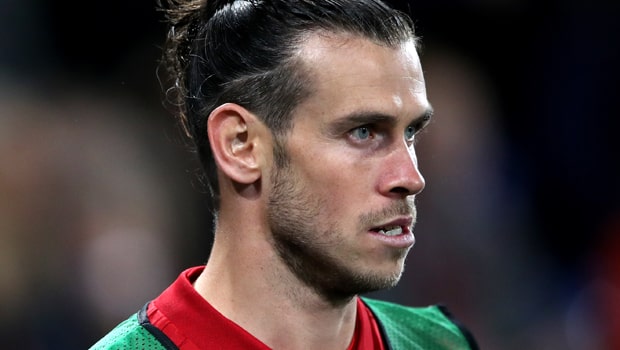 Wales, golf, Madrid. In that order. Was a statement from the Welsh fans regarding their talisman national team forward Gareth Bale famously out of favor at Real Madrid. The Welshman has had tumultuous career in Madrid, suffering from injuries and lack of playing time, despite impressing regularly when given the chance. The start of the season saw some drama, when Bale claimed to be rather playing golf than returning to Real's fold after being shunned by the now ex-manager Santiago Solari. The arrival of Zinedine Zidane has eased the tension somewhat, but the antics after the Welsh secured the place in Euro 2020 might have sparked another rift between the Welshman and the club. Bale proudly held up the Welsh flag with those infamous words printed on: Wales, golf, Madrid. In that order.
Bale arrived to Madrid from Spurs in September 2013 with a hefty £90M fee. The Welshman has played 238 in these seven seasons with Real, scoring a magnificent 104 goals and assisting on 64, despite most of the time playing second fiddle to Cristiano Ronaldo and also Karim Benzema. The injuries have kept Bale at bay for some time, but his production rate has still been through the roof.
Plenty of transfer speculation is surrounding the Welsh forward, and he has definitely not helped his cause in Madrid by his recent antics. It might be high time to part ways with Real although they're not keen on seeing Bale leave for cheap, which in turn will probably scare of his old team Tottenham. With Jose Mourinho at helm, Spurs are still the top candidate for Bale as the manager has been loud in praise for the Welshman.
While not in favor in Madrid, the team is lacking some firepower at the moment and could use the in-form attacker to complement their otherwise lackluster offensive core. But the question is, which kind of Bale returns to Madrid after the international break? Is it the player who single handedly – or footedly – paved the Welsh way to Euro 2020, or is it the version who would rather be playing golf?
Leave a comment