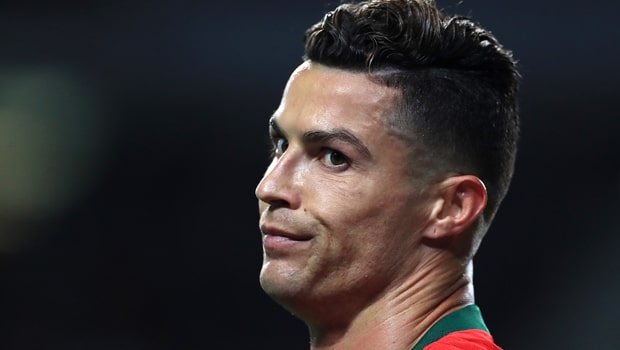 Portugal and Juventus forward Cristiano Ronaldo added to his sensational goal tally in Monday's
Euro 2020 qualifier
in Kiev against Ukraine. Despite going 2-0 up in the first half by goals from Roman Yeremchuk and Andriy Yarmolenko, the hosts were under pressure for the whole duration on the match and were barraged by Ronaldo and his compatriots for 10 times. The visitors' single goal came from Cristiano Ronaldo penalty on the 72
nd
minute after Taras Stepanenko's handling the ball inside the box, which led to a sending-off due to a second yellow card for the Ukraine midfielder.
Despite the impressive effort, Portugal failed to utilize their scoring chances and failed to secure qualification by losing 2-1. Ukraine, on the other hand, secured the 1st place in the group and the Euro 2020 qualification. Portugal will face Lithuania and Luxemburg during the next international break and the qualification through the group stage is in their own hands.
The Portugal talisman Ronaldo scored his 700th official goal of his career. The Madeira-born forward took 973 games from year 2002 to 2019 to reach 700 goals – a feat only five other players in the world have accomplished so far. The list includes legends Josef Bican, Romario, Pele, Ferenc Puskas and Gerd Muller. Having spent his younger years in meager circumstances living in the small island of Madeira, Ronaldo started his professional career in Sporting Lisbon, where he scored five goals in his first season for the senior squad. At the time there were not many believing the skinny forward could make it in the top level of Portugal, let alone the world.
Cristiano Ronaldo's career took a huge turn when he was spotted by Manchester United in 2003. He scored 118 goals for the Manchester side, before being bought by Spanish giants Real Madrid at then the record breaking sum of ~£85M. In his nine years in Madrid, Ronaldo scored an incredible 450 goals in all competitions. The transfer to Italian giants Juventus in the summer of 2018 was a massive shock for many and deemed as a downturn in Ronaldo's career. But the relentless forward proved everyone wrong and is as good as ever: he scored 28 goals for Juventus in his first season and has already added four during 2019/2020.
For his native Portugal, Ronaldo has scored an unbelievable 95 goals in 162 games, winning the European Championship in 2016 and the UEFA Nations League in 2018/2019. He is the leading European goal-scorer in international games. Ronaldo has also led his club sides to five Champions League titles – only player in history to do so – and is also leading the all-time scoring race in Champions League.
At the age of 34, Cristiano Ronaldo doesn't seem to be slowing down and it seems there's still more to achieve for one of the best players in the history of football.
Dafabet offers
UEFA Champions League Winner – Juventus: 11.00
UEFA Champions League To Reach Final – Juventus: 6.00
UEFA Champions League Top Goalscorer – Cristiano Ronaldo: 8.50
Italy Serie A Winner – Juventus: 1.37
Leave a comment