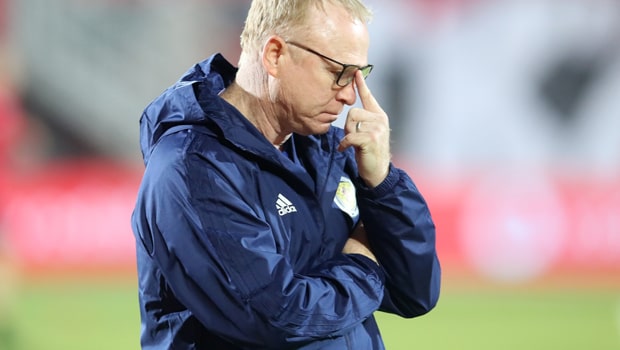 Scotland manager Alex McLeish has demanded a response from his side after their "horrible" 3-0 defeat to Kazakhstan in their opening European Qualifier.
The Scots made the trip to the Astana Stadium on Thursday afternoon and they went into the game as the favourites after wins over Israel and Albania in November. However, they were humbled on their travels after conceding two goals inside the first 15 minutes.
Some shocking defending allowed Yuriy Pertsukh and Yan Vorogovskiy to score, before Baktiyor Zainutdinov's header condemned Scotand to one of the worst defeats in their history.
The Scots have now got to take on San Marino in their next game and McLeish admits his team need to make an immediate response.
He told Sky Sports: "It was horrible. We started brightly and then they hit us with two blockbusters. It was then really difficult and it was disappointing not to see a great reaction.
"At half-time, we tried to change it a little bit to see if it could unsettle Kazakhstan, but they were first to the second balls, they looked very sharp on the night and unfortunately, after a good start, we didn't get up to speed.
"It's a sore one. We've had big defeats before but the facts are that we were beaten by a team who are lower than us so on paper, we should win but I think you've got to give a little bit of credit to Kazakhstan in the way they played and took advantage of us and our inability to get to the second balls, to play if forward quicker, taking too many touches and that was a big factor.
"It was an extremely important game and it's the first one, so we know there are a lot of other games but we know that tonight wasn't good enough."
Celtic's Kieran Tierney has been ruled out of the game against San Marino on Sunday with injury and has returned home, but Liverpool's Andrew Robertson should return after recovering from dental surgery.
Leave a comment