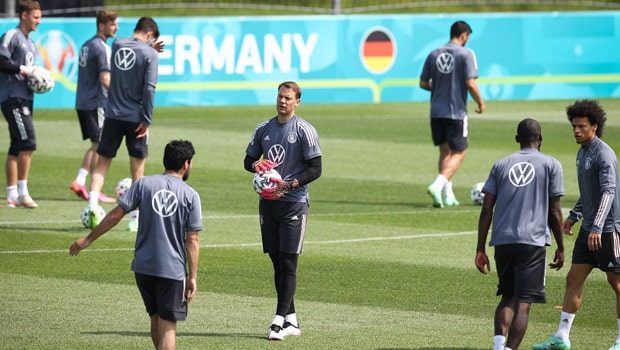 Germany haven't benefitted from the one year postponement of the Euros. After the season ended last year, a lot of their players had won the treble with Bayern Munich and Timo Werner was scoring goals for fun in the Bundesliga. However, in the last 10 months they have suffered a massive defeat at the hands of Spain and have also lost to minnows North Macedonia.
Considering Germany are placed in a group which includes France and Portugal; the winners of the last 2 major tournaments and the finalists of the last European Championship, many don't fancy Germany to do well in the group stage.
Germany will play all three-group stage matches at the Allianz Arena in Munich. Manuel Neuer stressed on how vital it is to perform well in this tournament after failing to impress in the 2018 World Cup.
"It is very important to start with a successful result," goalkeeper Neuer told a virtual news conference. "We know we owe the fans something after the last tournament. We hope to excite them with the way we will play and we need their support."
"We know France have been successful in the past years," Neuer said. "But we are still a very good team, uncomfortable to play against.
"We have respect for them but we don't see ourselves as the underdogs. We want to win the game here in Munich," he said.
While Mats Hummels and Thomas Muller have been recalled to the squad after a big absence in the national setup, Leon Goretzka is also expected to take part in their opening match after being injured in the last few weeks.
"Apart from Jonas, all players trained, including Leon. Leon has done four or five sessions with the team. He has left a very good impression and there seems to be nothing left from his injury," Loew said.
"What will be important tomorrow is to do what the team has showed in the past 14 days," he said. "That we are brimming with ambition and confidence, that we will go into the one-on-ones and we will throw everything into this game."
Leave a comment