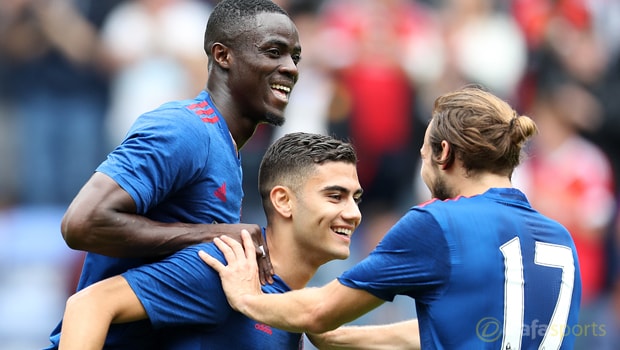 Defender Eric Bailly believes the Manchester United squad are finally starting to gel and says he wants to finish his career at Old Trafford.
The 22-year-old is currently in Gabon representing Ivory Coast at the Africa Cup of Nations, having joined United from Villarreal over the summer.
Bailly has enjoyed a good first half of the season, although he has faced competition over recent months with Phil Jones, Marcos Rojo and Chris Smalling all in the hunt for a starting spot.
The competition within the squad appears to have helped the Red Devils to hit a good run of form and they now sit just five points shy of second-placed Tottenham.
United, who are priced at 21.00 to win the Premier League, have gone 16 games unbeaten in all competitions and Bailly believes the squad has started to develop a better understanding.
Bailly said: "There are a lot of new players and the coach is new. Now we are noting that the team is gelling together and creating a good atmosphere, and we are having the results too.
"We know that with a coach like Mourinho, he can bring the best out of players, so I am very confident that this team can go further.
The players are getting a good understanding both on and off the pitch." The defender admitted that he is loving his time at Old Trafford and insists he would be happy to stay with the club for the rest of his career.
He added: "Hopefully I can play in Manchester all my life. "I am very happy here because it is such a great club.
It is such an honour to play for this club and I hope I can continue giving my best and become a great player in this club.
"It's difficult to claim the position of being a first-team player but I have to enjoy every minute I get at this club because it's a wonderful club and I am very happy to be there and to be part of it.
"I never dreamed a better dream than playing for Man United. Hopefully I can enjoy every bit of it every day."
Leave a comment