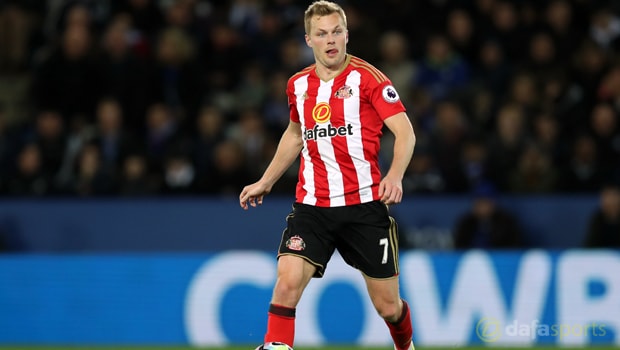 Sunderland midfielder Sebastian Larsson insists he and his team-mates need to accept any criticism that will come their way following relegation.
The Black Cats were relegated earlier this month and they have picked up just 24 points from 36 Premier League games.
After beating Hull 2-0, David Moyes' men were hoping to win back-to-back matches but they were brought back down to earth on Saturday when they lost 2-0 to Swansea.
A crowd of 38,781 people attended Sunderland's last home game and the fans expressed their anger as their side struggled to put pressure on the Welsh outfit.
With Championship football awaiting them, Larsson admits all of the squad must accept the comments from their critics in the coming months.
He told Sky Sports: "Listen, you have got to take what comes your way. We have been on the pitch during the season, so we are where we deserve to be.
You can't just take the praise when it comes your way, you have got to take the other part of the game as well. "You go out and you try your best.
Today wasn't good enough, like many other times this season, but it's about taking responsibility."
The 31-year-old may have played his last game for the club with his contract up in the summer but the Swede insists his own future is not important at the moment.
He added: "It might sound strange, but I have loved my time up here. I'm sure there will be discussions during the summer.
"But it's not the right time to stand here and talk about what the future holds.
It's not about me, it's about the club and for the club to do the right things for Sunderland Football Club to come back strongly next year."
Leave a comment