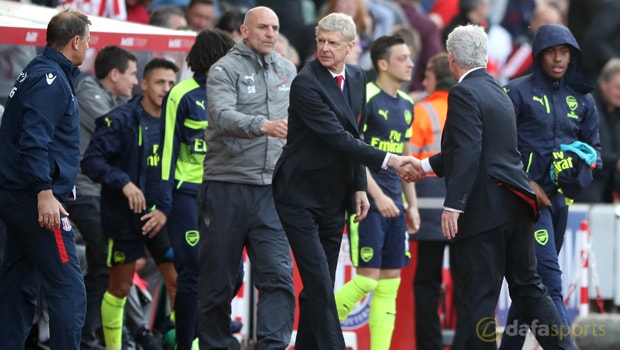 Arsenal manager Arsene Wenger has warned his players they must keep their focus as they continue to try and push for a top-four Premier League finish.
The Gunners looked out of the running for Champions League football last month but Wenger's men have been revitalised recently and are doing all they can to finish in the top four.
Arsenal are fifth in the table with two games to go as their first league win against Stoke since 2010 on Saturday kept up the pressure on their rivals and they now face Sunderland and Everton in their final two games.
While Liverpool are still the favourites for the top four, Wenger has refused to stop believing but he has urged his team to fight until the death.
He told reporters: "I think let's do the job and see after what happens.
"We have 69 [points] tonight, let's go to 72 on Tuesday. That means just try to focus absolutely to win the game. Sunderland have nothing to lose.
"We have gone through a difficult period in March but overall the 69 points means you need to win some games during the season.
"At the moment we have consistency and let's finish well. We have a big game again on Tuesday, we play every three days. It's important to recover and keep the same focus."
Wenger's side are the heavy favourites to beat Sunderland and they can be backed at odds of 6.50 to win 3-0 at home.
Leave a comment